Great Prices
We challenge you to find cheaper! Our rates include unlimited mileage, one-way fees and roadside assist*. Why pay more?
Wide Selection
We have around 20,000 depots around the world. We offer a great range of vehicles at competitive prices, from the most reputable suppliers
24/7 Hotline
We provide 24/7 service while you're on the road. You can also call 1800 761 192 , leave a message, and we'll return your call.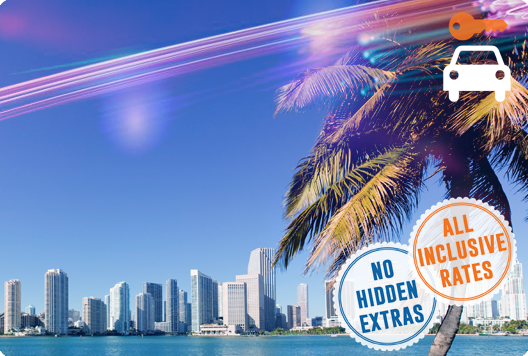 Quick! Book your great Miami car rental deal now and cruise around the world class 'magic' city that has it all! From the palms, sand, sun and surf to the nightlife art and food, Miami has all a tropical island could boast with the benefits only urban cities enjoy. Located on the Atlantic coast in southeastern Florida, Miami is a well-known global city due to its importance in finance, commerce, culture, media, fashion, education, film, print media, entertainment, the arts and international trade. Known as The Gateway to the Americas, Miami is an international center for entertainment, education, media, music, fashion, film, culture, print media, and the performing arts. Downtown Miami is home to the largest concentration of international banks in the United States as well as home to several corporate headquarters and television studios. Additionally, the metropolis' namesake port, the Port of Miami, is the busiest cruise ship passenger port in the world in both passenger traffic and cruise lines. More than 60% of the population in Miami speaks predominantly Spanish and well over half the population is Latino. The vast majority of people are Cuban which influences everything from the political climate to cuisine and cocktails and infuses the city with style and sexiness.
Visiting Miami
Hit Miami beach for sunning, swimming and people watching and gaze at some of the best looking people in the U.S. While you are down there check out the Art Deco History District which features the largest concentration of deco anywhere in the world. Learn more at the Art Deco Welcome Center. Then in the evening take a leisurely stroll down Espanola Way- a strip lined with European restaurants and cafes. If you haven't seen enough bare flesh on the beach finish up with a visit to the World Erotic Art Museum. If they're in season join the crush lining up for stone crabs at Miami's famous Joe's Stone Crab Restaurant on Washington Ave! The prices are high and the line is long but the fresh stone crab claws at the end are well worth the effort to most.
Miami International Airport and the Port of Miami are among the nation's busiest ports of entry, especially for cargo from South America and the Caribbean. Miami International Airport is located conveniently near downtown Miami- an easy drive for those with car rentals. This is the major airport for international, long haul arrivals to Florida and also provides onwards connections throughout the USA. Some of the better budget airlines depart from Miami airport. It is well served by all the usual airport amenities, including a great range of car rental suppliers - and Udrive draws on all of them to compare and offer you the greatest rates for your Miami car hire.
Miami, known all over the world as the centre of summer partying and of course, mentioned in the famous song by Will Smith. With its tropical climate, the region attracts thousands of visitors every month, both domestic Americans and foreigners.
Getting There
Miami has its own international airport. It is one of the largest in the world and there are many frequent flights from European countries. The next alternative is Fort Lauderdale but this airport does not have as many international flights. Car hire can also be arranged for pick up at both airports.
Where to Stay
The South Beach area is the most popular with its large variety of boutique hotels. Alternatively, if you are looking for something more luxurious and expensive, head downtown. Due to the tropical climate, festivals and attractions it is wise to pre-book your holiday accommodation because it does get booked up fast.
Eating and Drinking
The local cuisine of Miami is known as New World and it combines American traditional food with Latin American and Caribbean flavours and cooking skills. However, the region has over 5,000 restaurants so finding your particular favourite cuisine is not that hard.
The nightlife scene is also colourful and varied with laid-back lounge style bars to the large nightclubs. Be aware that some of the nightclubs will charge as much as 25 USD just for entrance fee.
Local Attractions
1 – Hanging out on South Beach is the local thing to do. Everyone gathers there from eccentric artists to dog walkers to families seeking a beach life.
2 – Jungle Island is a popular attraction with families. The 18-acre gardens opened in 2003 and since then have grown their collection of animals. The emphasis is on providing animals with a natural environment so they thrive. Groups include primates, fish, reptiles, and birds.
3 – Miami Zoo is considered one of the best in the country. Their animals live in natural surroundings resembling their home continents of Africa, Asia, and Australia.
4 – Half a day is needed to see the Sea Aquarium that works with marine wildlife such as dolphins and killer whales.
5 – The most popular excursion sold is the Miami city tour introducing you to all local landmarks and attractions
6 – The Everglades Tour is sold seven days a week and is especially appreciated by those who love the great outdoors.

Now that I've used Udrive a few times in Miami and elsewhere in the US, I always use them. When I bother to check, their prices are always the best or nearly best. But I use them for the reliability of service and consistent quality of cars. It's always straightforward, no surprises and no hassle.