Great Prices
We challenge you to find cheaper! Our rates include unlimited mileage, one-way fees and roadside assist*. Why pay more?
Wide Selection
We have around 20,000 depots around the world. We offer a great range of vehicles at competitive prices, from the most reputable suppliers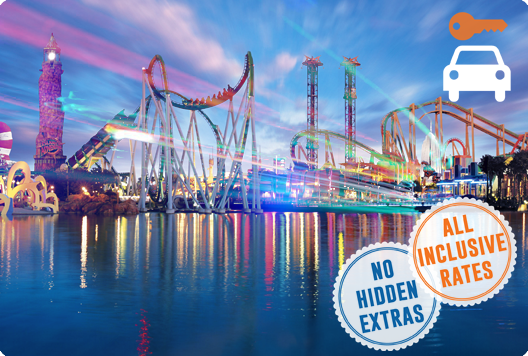 Orlando is a large city located in Orange County, Florida. For most people, Orlando conjures up the image of theme parks, mainly Walt Disney World, but it has a lot more to offer than that. (In fact, Disney World is not in Orlando, but is in nearby Lake Buena Vista). With the estimated 52 million tourists a year, Orlando and many other areas in the region have developed a lot to offer the less theme park-minded (or theme park-exhausted) traveler.
Other cities in the metropolitan area include Altamonte Springs, Davenport, Kissimmee, and Winter Park.
Driving in Orlando
The car is omnipresent in Orlando, and it is a very easy and convenient (if not congested) way to get to your destination. Orlando is a sprawling city with most attractions lying far to the south of the CBD and into adjacent cities like Kissimmee and Lake Buena Vista (this section includes those areas). The roads are all wide and easy to drive on with all major attractions well signed, but traffic jams around downtown are common in the afternoons, and around the touristy areas on Friday nights and all day Saturday. Orlando ranks 8th in the nation in terms of traffic congestion, and there are numerous ongoing construction projects on area expressways (all aimed at alleviating this, but only causing congestion in the meanwhile). Traffic information is available from new Dynamic Message Signs, most local radio stations, and also by calling 511 (a free, automated service which provides current traffic info collected from hundreds of traffic cameras as well as police reports.)
The main highway through Orlando, and the only interstate serving it, is Interstate 4 (runs NE-SW). In recent years major construction on it has widened it through areas south of SR528 making it a commuter-friendly highway (except for traffic during rush hours and Friday and Saturday evenings). Downtown Orlando; International Drive; Amway Arena; the Mall at Millenia; Arabian Nights dinner theater; and theme parks such as Walt Disney World, Universal Studios, Sea World, Discovery Cove, the Holy Land Experience, and Wet n' Wild are all conveniently located along/near I-4.
Aggressive drivers are abundant in the Greater Orlando area not only on major highways but also on surface streets in the downtown district. Speed limits are for the most part ignored in and around the city, even though on I-4 the speed limit is only 50 mph (80 kph) in the downtown area and ranges between 55 and 65 mph (90-105 kph) near the attractions, it is not uncommon to be tailgated if you travel less than 80 mph (129 kph) in the left lane. If you are unfamiliar with the area, it is much easier and safer to drive in the far right lane, as road signs will direct you.
Orlando is the largest rental car market in the world and is known as capital of car rental companies, with all major car rental companies accessible. Operating directly within the airport are Alamo, Avis, Budget, Dollar, Enterprise, E-Z Rent-a-car, L & M Car Rental, National, and Thrifty; courtesy shuttles are available for transport to other rental companies.
If you arrive by air via Orlando International Airport and pick up a rental car there, you can go through the north exit and head to SR-528 West to get to International Drive, Universal Orlando and SeaWorld. This will require $1.75 in tolls. Alternatively, you can take a direct route to Walt Disney World through the south exit to SR-417 South, following it to Exit 5, and taking SR 536 straight into Disney. This requires $2 in tolls.
In the vast country of America, there is one destination; known all over the world as one of the top spots to visit in the country. Orlando has played host to many social groups including celebrities, families, and solo travellers. It hardly fails to win the approval and admiration of other travel destinations, which are eager to replicate the success. This is by no means any small task considering Orlando has more theme parks and attractions than anywhere else does in the world.
Best Time to Visit
During the months of March to August. Orlando has a tropical climate and the average temperature is 100 degrees. Rain at nighttime is not unusual so be prepared with an umbrella.
How to Get There
Orlando international airport deals with most incoming visitors to the region. There are regular flights from most countries. Alternatively, for those on a road trip, the interstate 95 is easy access to all the major attractions and hotels. Using car hire in this area is easy and cheap thanks to the brilliant infrastructure of the road network. This is proven because Orlando has the biggest rental car market in the world.
Things to Do and See
• No one can visit Orlando and bypass a trip to Walt Disney world, considered the mecca and pioneer of all theme parks.
• Universal Orlando resort is the competition to Walt Disney. The park has many attractions that will interest kids, especially the Men in Black attraction and Harry Potter ride.
• Seaworld is a 200 square metre marine park with exhibits, shows, and rides
• Discovery Cove, although pricey is the chance to interact with dolphins in the water
• The Orlando science centre is a huge 19,000 square meters with hands on exhibits and demonstrations to get kids interested in this expansive topic.
• Gardening enthusiasts will love the Historic Bok sanctuary containing landscaped gardens and a variety of flora and fauna.
• Continuing the botanical theme, World of Orchids is a working 4,000 square greenhouse, resembling a tropical rain forest.
• The fit and adventurous will enjoy a Kayak eco tour
• Be introduced to the great American sport of Basketball by watching a game featuring the Orlando NBA team
• Eating out should be done at Park Avenue that is home to many, well run wine bars and restaurants.
• Luxury Spa treatments are available at most of the higher class hotels

Orlando Car Hire - From UDrive.com.au
We were very happy how the whole thing went. We had no problems at any stage and would happily use U-Drive again!