Great Prices
We challenge you to find cheaper! Our rates include unlimited mileage, one-way fees and roadside assist*. Why pay more?
Wide Selection
We have around 20,000 depots around the world. We offer a great range of vehicles at competitive prices, from the most reputable suppliers
24/7 Hotline
We provide 24/7 service while you're on the road. You can also call 1800 761 192 , leave a message, and we'll return your call.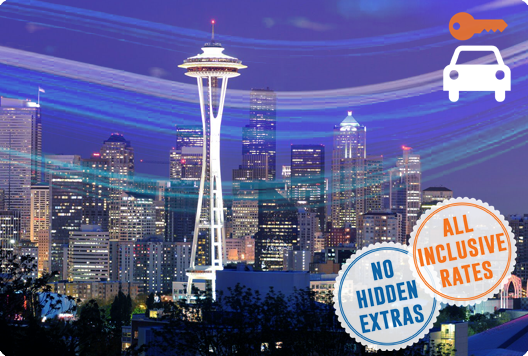 Seattle, a city of Washington state deserves its nickname of "Emerald City" for many reasons. Over 5,000 acres of green land exist within the boundaries and with its warm dry summers and cool winters; it attracts many tourists eager to see what the hype is about.
As well as its stunning beauty, and interesting historical timeline, visitors enjoy a variety of exciting activities on offer. From partying the night away to touring museums, if you need more reasons why you should visit, read on!
7 Good Reasons to Visit Seattle
Take in the Views
Thousands of acres are mostly spread out over hilly areas so stunning and memorable landscape views are in abundance. Locals say the best place to see them is Space Needle or the 73rd floor of the observatory.
Capitol Hill
This district is one of the city's most popular and vibrant night-time scenes as well as a chance to indulge in diverse cultures within the neighbourhood. Bars and nightclubs playing live music or the latest in dance tunes sit in-between small art theatres and dance studios. This is probably the best insight you will get into the nightlife of Seattle.
Museum Indulgence
Including a nine acre sculpture park, Seattle Art Museum has an impressive art collection, specifically including Japanese pieces. As well as the year round displays, various exhibitions take place every month. Later, go to the Nordic Museum showcasing their heritage and then the History and Industry museum, open daily from 10am to 5pm.
Pike Place Farmers Market
Fresh and healthy produce sold at the oldest farmers market in the US makes Pike Place popular. Tours are regularly held therefore helping visitors to understand how much the market supports local communities and at the same time, antiques from around the world are for sale.
Bainbridge Island
Just 45 minutes away by ferry, Bainbridge Island is a mecca of hiking trails, art galleries and a scattering of small beaches. Camping and hotel accommodation is available if you want to stay overnight. We recommend you do therefore allowing you time to shop and sample local dishes at the variety of excellent restaurants.
Wine Lovers
Wine experts verify that Seattle has a marvellous collection of red, rose and white wines. Take a tour of Chateau Ste Michelle that was Washington's first winery, set in historical grounds and home to award-winning wines.
Animal Kingdom
Children will love Woodland Park Zoo because of their diversity of animals and dedication towards their preservation through fun, educational activities. Alternatively, just down the road is the aquarium if the kids want to see life under the water including pacific octopus, puffins and sea otters.
Finally…
A visit to Seattle will be memorable, thanks to its diverse activity schedule and variety of things to do. Head up to the top of the page to search all local car hire suppliers that will bring you the best deal and prices for your stay.
Try our simple-to-use booking engine to compare car hire deals in Seattle. Type in your pickup and drop off locations & other information required and we'll immediately provide you with some quotations. Whether you're after an economy Seattle car hire, or a luxury Seattle rental vehicle, we have the perfect deal for you. Our low cost car rentals are provided by well-known suppliers such as Avis, Hertz and Europcar, but we can often provide better car hire rates!
For many years, road trips as the annual family holiday were popular. Then they were forgotten as cheap air travel was promoted to the masses. Fast forward to the beginning of the 21st century and the advancement of the Internet helped to excel independent travel. It showed us places that we never knew existed and landscapes gems that were pure beauties.
People now wanted to organise their own itineraries and road trips were back in fashion! America is an ideal country for road trips whether you are a group of friends or a large family. We take a look at three of the country's most popular road trip routes.
Famous Road Trips in America
The Olympic Peninsula in Washington
This 330 mile loop route takes in some of Washington's most scenic landscapes. The 101 Highway in Seattle is a good starting point. The diversity in terrain includes waterfalls, lakes, beaches, rainforest and of course, the majestic appearance of the Olympic Mountains.
In most areas, you can hire a tour guide to show you around and if you time your trip for October stop by the Dungeness Crab and Seafood Festival or alternatively in May, Brinnon has a largely celebrated shrimpfest. Activities in this area are unlimited from fishing to hiking, biking, and photography, wildlife watching, sailing and boating. This road trip takes you right into the heart of the best that nature offers.
Cape Cod Massachusetts
This is a short road trip, which allows you more time to travel slowly, therefore get to know the locals and explore every delights of the area. Most people descend on Cape Cod for the beaches but it boasts of many more attractions including the vibrant sunset over the Bourne Bridge, official biking trails, Martha's Vineyard, shopping, fishing and boating. The area is also famous for attracting artists so keep an eye out for their influence and work. Also taste the cuisine that Cape cod is famous for, namely oysters and clams.
Route 66
One of the most famous American highways of all time is Route 66 that runs from Chicago to Los Angeles. Although it has been replaced by the interstate highway, you can still follow the historical route closely to drop in at attractions such as the Lake of Ozarks, Kansas mining towns, Cadillac ranch in Texas, the Wigwam motel, and the Painted Desert. Read more about Route 66 here.
Further Reading: Our online search engine sources car rental suppliers across the whole of America. We compare them all to bring you the best deals and discounts.

Hey there, I am happy to comment on our hire experience. The car was nice and new, economical and had cruise control, which was good on the long hauls. The pick-up was easy - at the Hilton in Seattle. The booking process online was simple and free of hassles. And the drop-off in San Fransisco was very easy. Cheers, Tim - New Zealand