Great Prices
We challenge you to find cheaper! Our rates include unlimited mileage, one-way fees and roadside assist*. Why pay more?
Wide Selection
We have around 20,000 depots around the world. We offer a great range of vehicles at competitive prices, from the most reputable suppliers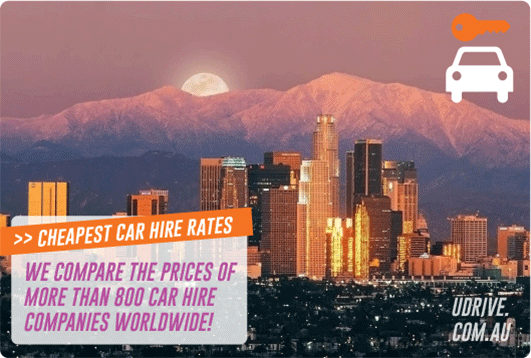 The City of Angels is amazing, and can be overwhelming. Remember, it's big and the traffic can be dreadful. When planning your time in LA, make sure you focus on where you would like to spend your time and choose accommodation accordingly. If you're going to self-drive in LA, you should seriously consider booking a GPS unit at the time of making your LA car hire booking. Those spaghetti-like overpasses and underpasses get confusing!
Where to begin? Many visitors to LA are interested in visiting the film studios of Hollywood. A number of the studios offer tours, including Universal, Warner Bros, Sony and Paramount. The tours vary in duration, and whether they provide transport or it's on foot. The Universal tour is very popular, but expensive, but do your research, and book in advance where possible.
Shopaholics and window shoppers alike generally like to check out Beverly Hills and West Hollywood. There are tacky, but enjoyably voyeuristic tours you can take of the houses of the stars. You won't see the stars, or even much of their houses, given the extensive foliage and high fences, but you will get the impression of the general size and opulence of houses in the neighbourhood. Beverly Hills is also home to Rodeo Drive and its designer stores, where you do stand a chance of bumping into a celebrity, especially if you're in the boutiques flexing some serious plastic yourself.
Venice Beach is one of LA's must-see sights. Stroll the boardwalk, soaking up the sounds of the drummers and buskers, dodging the fast cyclists and skaters and generally checking out the people checking out the people who are there to be checked out! The atmosphere is great, and there's plenty to do. Grab a snack from an open-air vendor, get a tattoo or buy some beachwear or sunglasses from one of countless stalls on the boardwalk.
Visit the theme parks! Disneyland and Disney's Californian adventure are worth the trip, whether there are kids in your group or not. There's something for everyone, and you won't cram it all into one day. Sea World is also worth a visit, as are Magic Mountain and Legoland!! Knotts Berry Farm is known better to locals than visitors, but it also has 165 rides and attractions for the true theme park die-hards.
LA is one of America's great dining cities. It has some of the best Mexican food outside Mexico. Avoid the chain restaurants, and try some authentic Mexican food. Try one of the Guelaguetza restaurants and order outside your comfort zone. There are also strips of mom-and-pop Mexican places, where you may need to resort to Spanish or charades to make your order, but you know the food will be authentic. The size of the crowd will tell you which one's best. Have a look at Pacific Boulevard between Slauson and Florence Avenues, or York Boulevard between 2 and 110 North Avenues.
Apart from Mexican food, LA is home to all the cuisines in the world, for basically all budgets. Try fine dining at the Regent Beverly Wiltshire Hotel, or a snack from a burrito sidewalk cart. For Middle Eastern food, try the Carousel restaurants (Hollywood or Glendale). For excellent Vietnamese, try 9021Pho, at 490 Beverly Drive and for Italian (with celebrity spotting) try Da Vinci Ristorante on Santa Monica Blvd. There are plenty of web sites on LA restaurants, categorized by cuisine, budget and neighbourhood. Have a look at http://theguide.latimes.com/restaurants and also http://www.losangeles.com/restaurants/.
LA International Airport, known generally as LAX, is around 25km from downtown LA. However, traffic in LA is unpredictable and peak hour can be a nightmare. Check with your hotel about how long it's going to take, and leave plenty of time to get to and from.
LAX has nine terminals and is served by dozens of domestic and international airlines. Make sure you know which terminal you're headed for in advance, as it's a long, long way from one end of the airport to the other. When booking your LA car rental with Udrive.com.au, try to enter your flight details accurately.
Pretty much of all the car rental companies are located off-site at LAX airport. There are car rental courtesy buses running from terminals to car rental depots continuously, which you will need to take to get to the rental desk. We will be sending you the full pick up details with the voucher, once your booking is received and confirmed by our supplier.
Check out the following (official LAX airport page) link for information about collecting rental cars at LAX airport:
Pickup your LA car rental and get out of town! Take a Ford Mustang and head out across the desert to Las Vegas. Drive up through California to the vibrant and wonderful San Francisco, or set out for the beautiful wine country of the Napa Valley. Alternatively, drive down south to the charming San Diego and then walk across the border to Tijuana in Mexico. (Be warned, Tijuana is not Mexico's most charming city - for a better picture of Mexico, visit Mexico City, Guadalajara or Acapulco.) Drive to Pasadena, around Orange County or around the stunning granite formations of Yosemite national park.
Los angeles Car Hire - my UDrive review
The whole process of booking and collecting the car was so easy and friendly. So I passed the details of U Drive to friends of mine who are also travelling to the USA. Anybody who asks about our hire car I recommend they use U Drive. The car was a dream to drive, the collection and return was quick and simple. Even when i lost the keys the service to get me going again was brilliant by Dollar car rental. Thankyou for adding to the great holiday my wife and I had. I will be contacting U Drive anytime i require a rental car from now on.