Great Prices
We challenge you to find cheaper! Our rates include unlimited mileage, one-way fees and roadside assist*. Why pay more?
Wide Selection
We have around 20,000 depots around the world. We offer a great range of vehicles at competitive prices, from the most reputable suppliers
24/7 Hotline
We provide 24/7 service while you're on the road. You can also call 1800 761 192 , leave a message, and we'll return your call.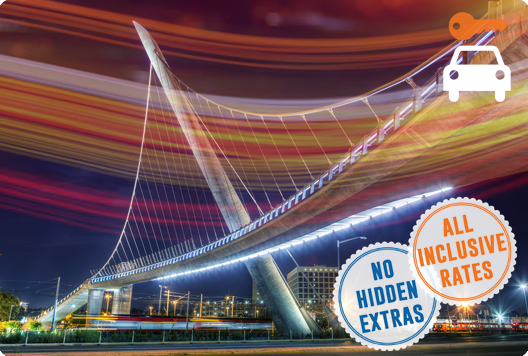 The San Diego metropolitan area is sprawling. If possible, car travel is the most efficient way of getting around the metro area. Throughout the downtown and beach communities, on-street parking is metered. Parking meters accept coins, pre-paid Parking Meter Cards, and some newer meters accept credit cards. For more information parking meters and enforcement, or to purchase a pre-paid meter card please visit the City of San Diego Parking Administration website. Gas/petrol prices tend to be higher than much of the U.S. The outlying communities of El Cajon, Santee, Lemon Grove, Poway, and Chula Vista are the least expensive in the area for filling your tank.
San Diego is easily accessible by car using any one of the three major interstate roadways, the 5, 8, and 15 Freeways.
- I-5 begins in San Ysidro, at the US-Mexico border crossing, and continues northward through Los Angeles and Central California to Oregon and Washington, terminating in Blaine, Washington at the US-Canadian border crossing.
- I-8 begins near the coast in Ocean Beach and continues eastward through eastern San Diego and Imperial Counties into Arizona, where it connects with Interstate 10 about half way between Phoenix and Tucson. From the Phoenix area, AZ Hwy 85 to I-8 at Gila Bend is often faster, except from the eastern suburbs. There is a mountain pass of about 4,200 ft. between the desert and coastal area. Closures or restrictions due to snow happen on rare occasion.
- I-15 begins in southern San Diego County and continues northward into the California deserts, through Nevada, Utah, and Idaho, eventually terminating at the US-Canadian border in northern Montana.
Additionally, there are numerous other freeways that crisscross the county, making access to most places in San Diego relatively easy. However, be advised that traffic is frequently congested during the weekday morning and evening commuting hours.
San Diego is famous for great weather, sandy beaches and major attractions. Its location right in the bottom left corner of the USA makes it a natural place to start a road trip around the US, or even just around California. However, it also provides a great jumping off point for exploring the southern states. Many visitors immediately think of the world famous San Diego Zoo, but others will regale you with tales of incredible Mexican food. The Gaslamp Quarter is increasingly popular with visitors, as is the great resource at http://www.sandiego.org/ when planning your trip.
All the major rental car companies operate at the San Diego Airport, though most require you to take a shuttle which goes behind the terminal and runway (about 2.5 miles). To get to the I-5 freeway, turn right at Sassafras Street, then cross the railroad tracks. Do not mistake the railroad crossing for Kettner Blvd./I-5 south as a few visitors have done (mostly after dark) over the years. These tracks are heavily used by Amtrak and other rail services, and there's a good chance of being hit by a train if you make a wrong turn.
---
San Diego Rental Locations
---
I recently booked a rental car through Udrive and drove it across the USA, starting in San Diego. The booking process was great and got me by far the best possible deal, the car was nearly new and only had 10,000 miles on it, the payment system and collection/drop off process were fine. All in all an awesome holiday with hassle free car rental. I never leave reviews for anything but this was exceptional. Top marks Udrive!