Great Prices
We challenge you to find cheaper! Our rates include unlimited mileage, one-way fees and roadside assist*. Why pay more?
Wide Selection
We have around 20,000 depots around the world. We offer a great range of vehicles at competitive prices, from the most reputable suppliers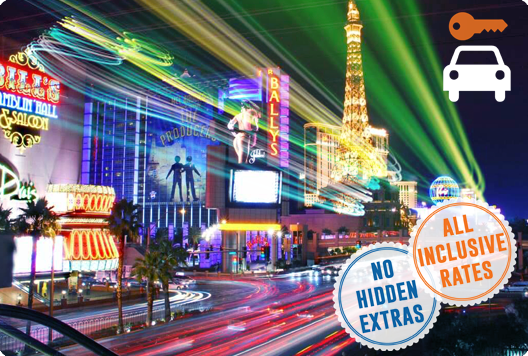 Las Vegas is the largest city in the US state of Nevada. Nicknamed Sin City and the Entertainment Capital of the World, it is situated in the midst of the southern Nevada desert landscape. The city has giant mega-casino hotels, decorated with lavish care and attention to detail to create a fantasy-like atmosphere. The casinos often have names and themes that evoke romance, mystery, and far-away and exotic destinations.
Driving to Las Vegas
Southern Californians crowd Interstate 15 every weekend going back and forth to Vegas. Expect this drive to be crowded and frustrating, unless you can come and go at off-peak hours. However, many find the 280 mile (450 km) drive along I-15 restful and scenic. Attractions along the I-15 include the California towns of Barstow and Baker; the Mojave Desert; and small hotel-casinos in Nevada at Primm (at the California border) and Jean, respectively. Those who traverse the I-15 should remember that they are crossing a desert, and should carry (and drink) ample amounts of water, especially on hot summer days where temperatures can reach 43 C).
From east of Las Vegas, travellers typically drive on I-40 through Arizona, and then head north toward Vegas on US-93 in Kingman, before finally picking up I-15. This route will take you along the Lake Mead National Recreation Area and directly through Boulder City, near the Hoover Dam. Traffic there can be extremely congested and slow-going; although less so than in past decades since US 93 was rerouted to bypass Hoover Dam, using a new bridge. Still, this stretch is usually the slowest part of an otherwise sparsely populated desert area.
From the North I-15 meets the Arizona border at the more relaxed town of Mesquite, NV and shortly goes into Utah. The junction of I-70 and I-15 is where most people driving from the east will take. Those from further north may meet I-15 from I-80 in Salt Lake City. Those traveling from the north drive on US-95 from Reno and Tonopah. This is a two lane highway until it reaches the community of Mercury, where US-95 is a four lane highway. The route is sparsely populated and travellers should ensure that their fuel tank is full.
We have depots at Las Vegas airport and at various points along the strip to ensure your Las Vegas car rental is convenient. We offer exceptional rates on one-way rentals between Los Angeles airport and Las Vegas. Yes, Ford Mustang convertibles are the most popular vehicle rented along this stretch!!! We rent for as little as 12 hours, and can guarantee a vehicle at LAX if you don't want the economy of taking a small shuttle to an offsite car depot. Send us an enquiry about your special request, and we'll see what we can do!

Las Vegas has a worldwide reputation as the centre of gambling, shotgun weddings, and outrageous behaviour. Stag weekends are often held there with a promise of "what happens in Vegas stays in Vegas" and glamorous nighttime cabaret shows attract thousands. It might be the entertainment capital of the world yet the city has such much more to offer so do not be too quick to write it off if gambling is not your idea of fun.
Eight Reasons to go to Las Vegas
The city is host to many museums including…
• Neon: Displayed signs and objects from the past of Las Vegas
• Organized Crime and Law Enforcement: Explore the history of crime gangs in Las Vegas over the year
• Natural History: Focused on famous events and people from around the world
• Mormon State History: Explores the beginning of Mormon life in Las Vegas
The Las Vegas Zoo is located roughly 15 minutes away from the main strip and it houses over 150 species of animals including an African lion, chimpanzee, emu, and parrots. The non-profit organization is dedicated to education but in a fun way so that kids will learn and enjoy at the same time.
Golf is also a big business in Las Vegas, with over six courses that are open all year round. Some of the courses are also attached to luxury hotels providing spa amenities so if one-half of the couple has no interest in the sport, they can still tag along.
Fishing fanatics will enjoy spending their days angling at Floyd Lamb Park. Based at Tule Springs, the park has four lakes stocked with fish. It also covers 60 acres making it ideal for anyone who wants to get away from urban planning to explore wildlife and natural scenery.
Las Springs Reserves is a great location for a family day out because of its botanical gardens, event venues, historical photo gallery, and walking trails. Very often throughout the year, there are also numerous exhibitions focusing on a variety of subject matters relating to Las Vegas.
Often featured in many box office films, the Hoover Dam sits on the border of Nevada and Arizona. Tickets are available for purchase but if you want to get the full background history, be sure to book a guided tour.
If Las Vegas is a stop on a road trip, just five hours outside of it is the south entrance to the Grand Canyon. The amazing landscape view has to be seen at least once in a lifetime.
Hotels in Las Vegas are out of this world. Their construction is made with careful planning to ensure unique identities that do not mirror any other hotel in the world. One such hotel is the Venetian that is intended to inspire romantic images of Italian getaways. Another notable hotel in Las Vegas is the Bellagio. Therefore, if you are looking for a getaway that is simply focused on relaxing, Las Vegas is the place to do that.
Get Around Las Vegas
Car hire is a great way to explore Las Vegas and the surrounding attractions.

Las Vegas Car Hire - UDrive
Our feedback: UDrive is the very best. The whole process - booking, pickup and return - of our Dollar vehicle was so convenient and economical! I am so glad that I found the website, and will definitely highly recommend it to others.