Great Prices
We challenge you to find cheaper! Our rates include unlimited mileage, one-way fees and roadside assist*. Why pay more?
Wide Selection
We have around 20,000 depots around the world. We offer a great range of vehicles at competitive prices, from the most reputable suppliers
24/7 Hotline
We provide 24/7 service while you're on the road. You can also call 1800 761 192 , leave a message, and we'll return your call.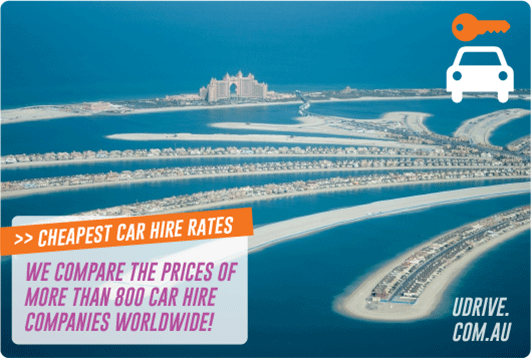 The United Arab Emirates has the right amount of exotic, outlandish and luxurious. The last decade has seen UAE's aggressive strategies to draw in car rental holiday tourists to their countries, constructing manmade islands, the world's most voted most opulent hotel, the 7-star Burj Al Arab and not to mention their ultra-modern highways. Driving a car hire around one of the world's richest countries will let you on its heritage, undulating sand dunes, bustling souqs and coral-filled beaches. But sure to compete for your attention are all those designer clothing shops at tax-free prices. You would also be tempted to stay up all night and groove to the trendiest DJ's spins in UAE's very sleek clubs.
Going around UAE
Public transportation is limited to buses, with intercity travel often reliable to be get there on time and get you to your destination on time. There is no rail service at present although construction has started in Dubai, its most progressive city. Foreign travelers frequently ride taxis or drive a UAE car rental, instead of take the bus. There is a wide choice of vehicle rental in the United Arab Emirates. For desert safaris, you are best to hire a 4WD rental, lest your car hire sedan gets stuck in the sand.
From the Airport
The main international airport of United Arab Emirates is found 4 kilometers southeast of Dubai in the district of Al Garhoud, the Dubai International Airport. It belongs to the 15 busiest airports in the world, making it a very important air hub in the region. Buses can be found at the Arrivals Area and the Airport Ground Transportation Center, bringing passengers to Dubai central district and other major UAE cities like Abu Dhabi. There are also various UAE vehicle rental companies at the airport and you may arrange to pick up your car hire when you arrive from your flight.
Places to See
Got cash to burn? Pay your way to luxury and drive your UAE car hire straight from the airport to the Burj Al Arab in Dubai. What's amazing about the 7-star Burj Al Arab is its towering height (321 meters, making it the world's 4th tallest) and the fact that it stands on a manmade island, Jumeirah. Aside from the plush suites, you can dine in the Mahara to feast on the most delectable seafood while watching fish swimming in its large aquarium. But, there's more to Dubai than the celebrated Burj Al Arab; you may take an exciting cruise along the creek, go sandboarding on the desert and go crazy on a tax-free shopping spree. In the capital city of Abu Dhabi, do not miss the Abu Dhabi Heritage Village. It is a recreation of how life was before the great oil boom. You'll find a mosque, a souq, glass-blowing craftsmen and all things that are of Abu Dhabi tradition. You should also visit the Al-Ain Palace Museum, a grand palace that displays magnificent relics from UAE's splendid history.
Nearby Country
Found to the southeast of United Arab Emirates is Oman, a perfect car rental holiday destination yet to be discovered by foreign travelers. It is rich with nature (dry riverbeds, mountains, deserts and beaches), archeological sites (ancient tombs of Gaylah) and busy, fragrant and colorful souqs.
See latest car hire promotional rates and book online with Udrive.com.au. We provide a large range of vehicles from budget or economy options through to luxury, 4WD & Vans. Udrive.com.au will compare the top car hire agencies to find you the very best deal on your car hire in United Arab Emirates.
Popular Car Rental Depots in UAE
Avis
Ruwais Adnoc Housing Complex
Sila Road
Abu Dhabi
Europcar
Dubai Radisson SAS
Benyas Street
Deira Dubai 2533
Hertz
Abu Dhabi Airport
Sky Plaza Park, 4th Level
Abu Dhabi
Location Voitures UAE | Renta De Autos UAE | Autovermietung UAE | Noleggio Auto UAE | Car Hire in UAE
Compare Cheap UAE Car Hire
Try our simple-to-use booking engine to compare car hire deals in UAE. Type in your pickup and drop off locations & other information required and we'll immediately provide you with some quotations. Whether you're after an economy UAE car hire, or a luxury UAE rental vehicle, we have the perfect deal for you. Our low cost car rentals are provided by well-known suppliers such as Avis, Hertz and Europcar, but we can often provide better car hire rates!
Avis, Budget, Thrifty, Dollar, Hertz, Europcar, Sixt, Alamo, National & More!

Abu Dhabi | Al Ain | Deira | Dubai | Fujairah | Jumeirah | Ras Al Khaima | Sharjah
We have multiple pick up depots in each city. Please type in your rental location in our booking engine above for an online quote.
---
Top Car Hire Locations in United Arab Emirates
---
---
United Arab Emirates Rental Locations
---
We were really pleased we booked our SUV through Udrive when in Abu Dhabi recently. We knew the limits. The rental conditions were pretty clear on the website, but didn't cover everything. We emailed a couple of questions, and both Melissa and Michael at U-drive provided useful information. We checked that as with many rental cars throughout the world, your not insured if you take the car off-road. Some people from our hotel were not so careful and bogged their SUV in a slightly sandy area at the edge of the desert, and their supplier didnt even want to send roadside assist to dig them out. While the dunes and dessert are tempting - not in a rental car! Go with a professional tour operator if that's what you want.
Udrive's price was good and the car was brand new (only done 300km.) Will use them again for price and service, but always be careful to check the conditions.