Great Prices
We challenge you to find cheaper! Our rates include unlimited mileage, one-way fees and roadside assist*. Why pay more?
Wide Selection
We have around 20,000 depots around the world. We offer a great range of vehicles at competitive prices, from the most reputable suppliers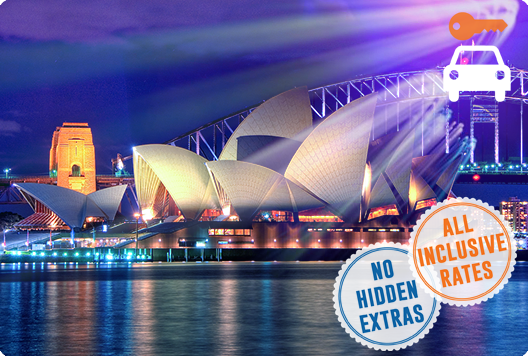 Fascinating Australia is just great for a self-drive holiday. With different landscapes, wonderful characters, fantastic food and amazing adventures to be had, there's no reason not to book your great car rental deal today, and get going! Go swimming at the cleanest, most beautiful sandy beaches you've ever seen. Drive through red deserts, marveling at rock formations. Take the money you've saved on your bargain Australian car rental, and spend up big in the shopping capitals of Melbourne and Sydney.
Food Culture
Australia is well served with plenty of fresh, high quality food. Australian seafood is among the best and most affordable in the whole world. Australian beef and lamb are of very high quality. Savour incredible and affordable wines in South Australia, take a caffeine hit in the coffee capital of Melbourne, eat bush tucker in the Northern Territory and experience high quality cuisine from around the world in Sydney. From the European style cafes of Melbourne's laneways to the famous dining highlights of Sydney Harbour, from the local fish and chip shop to the best Aussie backyard BBQ, you'll always be pleasantly surprised at the quality and value of Australia's food scene.
Accommodation & Hotels
Apart from an exceptional range of accommodation, from well-equipped campsites to luxury, world class hotels, why not try something different? Stay in an underground cave house in Coober Pedy, round up cattle on an authentic outback farm or soak up the rainforest in an eco-lodge tree house.
Air Travel
Australia is also well served for air travel by the national carrier QANTAS, and bargain fares are available through domestic budget carriers Virgin, Tiger Air and Jetstar. Sydney has both a domestic and international airport, but shuttle buses which take around 10 minutes can transport you between them. Other capital cities and regional centres have modern, safe airports with plenty of parking and numerous car rental agencies, for you to pick up your quick and easy car rental.
Emergencies
In an emergency, call 000 for police, fire and ambulance services. Foreign visitors to Australia need private health insurance, and there are public hospitals in all capital cities and most regional centres.
Transport
Australian roads are safe and well-made, perfect for driving your affordable rental car or motorhome across the biggest island in the world. Apart from peak hour in downtown Melbourne, Sydney & Brisbane you'll be surprised at the lack of traffic. Drivers need to take care of kangaroos and other wild-life after dark. If you're going off-road or into the outback, check your rental contract for conditions, and make sure you're well equipped with plenty of water and fuel.
Train trips from Melbourne to Sydney and between other regional centres can be fun, but you should also consider the classic Ghan rail adventure, right through the desert from Adelaide to Darwin.
Information
Want more information? visit http://en.wikipedia.org/wiki/Australia.
At Udrive.com.au, we have more than 165 pick up locations in Australia. In Sydney alone we have seven pick up points scattered around the city, servicing your car rental needs across Sydney. We have pick up points at remote locations and 4WDs (four wheel drives) are also available from some of these pick up points. Some of our popular rental locations include; Brisbane, Cairns, Sydney, Melbourne, Perth, Adelaide & Hobart. We welcome clients from all over the world and you are able to obtain an Australia car rental quotation through our web site in 27 different currencies and 11 languages
We have a whopping 170 pick up locations in Australia. Please select your car rental pick up location from our booking engine or by clicking on the 'Book Now' link above.
Brisbane - Airport | Adelaide - Airport | Adelaide | Artarmon | Perth - Airport | Maroochydore - Airport | Virginia | Wollongong | Hobart - Downtown - Tasmania | Kununurra Airport | Launceston Airport - Tasmania | Launceston - Downtown | Mackay - Downtown | Maryborough Downtown | Cairns - Airport | Cairns - Downtown | Canberra - Airport | Canberra | Coffs Harbour | Exmouth | Coolangatta Airport | Devonport Airport - Tasmania | Devonport City - Tasmania | Devonport Ferry - Tasmania | Gladstone Airport | Orange - Downtown | Rockhampton - Downtown | Sydney - Downtown | Kununurra - Downtown | Bundaberg | Hervey Bay (Remote location) | Broome - Airport | Welshpool | Bayswater | Liverpool, NSW | Clayton | Mackay - Airport | Proserpine Airport | Exmouth Airport | West Ryde | Hornsby | Sydney - Airport | Brisbane - Downtown | Hurstville | Alice Springs - Airport | Kalgoorlie | Shepparton | Hobart - Airport | Melbourne - Airport | Melbourne
Many empires and civilizations throughout history have left their mark on countries of the world. Australia is no exception and there are some marvellous natural and man-made attractions to visit. Some of them are listed as UNESCO World Heritage sites, which gives them ultimate importance.
To quote the UNESCO committee
"The World Heritage List includes 981 properties forming part of the cultural and natural heritage, which the World Heritage Committee considers as having outstanding universal value".
Out of the 981 UNESCO sites throughout the world, Australia has 19. We have listed our top ten favourites that should be on your itinerary when you plan a road trip of Australia.
Ten World Heritage UNESCO Sites in Australia

- Great Barrier Reef: Home of many islands, coral reefs and thousands of species of animals
- Kakadu National Park: Unique landscapes and intriguing history of the aboriginal people
- Willandra Lakes: This region is particularly favoured for its fossil specimens, unique sand formations, and rather stunning lake scenery
- Tasmanian Wilderness: Covering 1 million hectares, some of the caves here are 20,000 years old.
- Uluru-Kata Tjuta National Park: Named after a group of Aboriginal people, this area has been proven to be the home of very old human settlement.
- Shark Bay: Located in Western Australia, it is well known for sea grass beds and endangered mammal species
- Fraser Island is the world's largest sand island, and home to some rather weird beaches!
- Greater Blue Mountains: Picked for the marvellous ability to showcase the biodiversity of the region
- Sydney Opera House: This man made landmark has become the iconic symbol of Australia
- Australian Convict Sites: Depicting the process of criminal punishment by the British government in the 18th and 19th centuries

---
Top Car Hire Locations in Australia
---
Australia Car Hire - Cheap Car Rental
We were most pleased without rental arrangement and the vehicle which was clean and neat, and a very good air conditioner. We were happy with the car and it was reliable. We will use your services again.
UDrive Car Hire - First Timer
It all went really smoothly. 1st time I have hired a car. My only very minor comments is that there were features that I could not work out how to operate since the car was so new - opening the back to get into the boot and the extremely odd new-look designed "hand" break. I had to ring and then go back to the booking desk to ask how to work them. And I had to do it twice. Booking, payment, pick up were all really great. Ladies at the desk very nice.
Regarding the rental car through UDrive.com.au. We were very happy with all the services. We will certainly use UDrive again and will recommend it to friends.