Great Prices
We challenge you to find cheaper! Our rates include unlimited mileage, one-way fees and roadside assist*. Why pay more?
Wide Selection
We have around 20,000 depots around the world. We offer a great range of vehicles at competitive prices, from the most reputable suppliers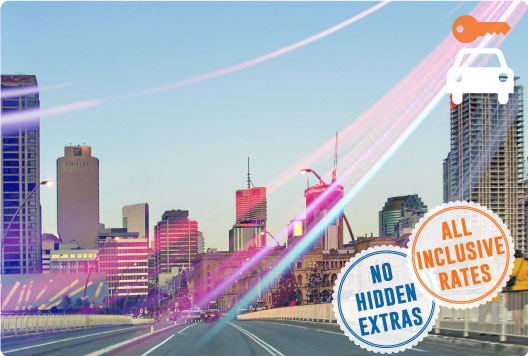 Brisbane Guide - Visit Brisbane
Brisbane is a sunny and pleasant riverside city. It is a very popular Australian tourist destination, providing excellent access to the nearby Gold Coast to the south and the stunning Sunshine Coast to the north. Gorgeous coastal towns are particularly accessible for those who have taken advantage of a great car rental deal and have their own transport. Brisbane itself has plenty to offer visitors, with over 27km of bike paths winding through the city, parklands and along the Brisbane river. The city is famous for its extensive parklands, though many visitors come for the sport, including rugby league, Australian rules football, cricket and netball. Plenty of Australians pop up from Sydney to enjoy the climate and the relaxed pace, using their great car rental deal to see more of sunny Queensland. The city is famous for great international cuisine and a vibrant multicultural community. The riverside development at South Bank is worth a look and you can use your great car rental opportunity to zip over to New Farm and check out the high end shopping!
Brisbane Car Hire Tip
It may actually be cheaper to rent your car at the airport! Compare our airport rates to the city centre rates as you may be better off picking up from the airport location.
Brisbane airport is the third busiest in Australia, and serves both domestic and international travellers. While waiting for your transfer, hop on the courtesy bus, and visit the nearby Direct Factory Outlet shopping centre to snap up a bargain!
Brisbane airport is only 13 km drive from the central business district, an easy drive in your bargain rental vehicle. There are 6 car rental agencies at the airport, including Avis, Hertz, Europcar and Budget so picking up your rental car from Brisbane airport will always be quick and easy.
Transport
Brisbane is well served by a comprehensive network of great roads, perfect for those with rental cars to take advantage of lovely scenery and light traffic to get around. Parking is readily available in the city, but there are also many one-way roads for car renters to watch out for! The Gateway bridge road includes a $2.90 toll, but provides a great bypass of the CBD, allowing you to get where you're going faster.
Climate
Brisbane enjoys daytime temperatures ranging from 20C (70F) in winter to 30C (86F) in the summer monthys of December and January. Winter nights can be cool, with temperatures dropping to an average of 9C (48F), but summer nights stay warm. Occasional 'scorchers' are experienced in summer, when the temperature soars to more than 40C (100F). Brisbane's climate is regarded as subtropical, with hot humid summers, and mild, dry winters. From late Spring (November) until early Autumn (March-April), severe thunderstorms can be experienced with sudden dramatic downpours in the afternoon.
Accommodation
Brisbane enjoys a wide variety of affordable accommodation, and even some top end, luxury hotels at great rates. There are plenty of options around the river and the Queensland Performing Arts Centre and the Brisbane Convention Centre.
Health and Emergency Services
Brisbane is served by eight major public hospitals, four major private hospitals and many clinics. Visitors with Medicare rights can be treated for free, while international visitors should have private health or travel insuarance. In an emergency, call 000 for police, fire brigade or ambulances.
Compare Cheap Brisbane Car Hire
Try our simple-to-use booking engine to compare car hire deals in Brisbane. Type in your pickup and drop off locations & other information required and we'll immediately provide you with some quotations. Whether you're after an economy Brisbane car hire, or a luxury Brisbane rental vehicle, we have the perfect deal for you. Our low cost car rentals are provided by well-known suppliers such as Avis, Hertz and Europcar, but we can often provide better car hire rates!
Avis, Budget, Thrifty, Dollar, Hertz, Europcar, Sixt, Alamo, National & More!
In the North-east of Australia, the region of Queensland is home to two of the country's most prolific cities. Cairns and Brisbane attract much admiration mainly because of their status, and tropical climates. A self-drive holiday from Cairns to Brisbane is popular within domestic tourism and is recently making it as a major attraction for international visitors. Covering more than 1,700 kilometres, there are ample landmarks, historical attractions and cultural experiences for visitors to get their teeth into.
Top Five Attractions Between Brisbane and Cairns
Noosa Heads is located north of Brisbane and is widely admired for its beach, National Park and Hasting Streets, which is a boutique theme avenue of shops. The National Park is home to many koala bears and depending on the time of year, that you visit, check out what festivals and events are occurring. The most famous in the region is the Noosa Classic Car show and also the Food and Wine Festival.
The economy of Hervey Bay, relies mostly on tourism in particularly whale watching, fishing and visiting the nearby Fraser Island which is a heritage listed location, famous for its flora, fauna and historical history. Beach lovers will delight in the 14 kilometres of sand while trepid explorers can investigate the numerous amount of natural landmarks and places of beauty.

Childers is under protection of the National Trust because of its heritage character that includes old colonial buildings. Explore the old post office, court house, church and butchers shop. Old everyday objects in the Pharmaceutical museum make it a must visit and visitors can see why it also has status as a sugar town by visiting the sugar mill

One of Queensland's most gorgeous parks is Eungella, which is also ideal if you plan to camp out along the route. This haven for Platypus is extremely ecologically diverse with more than 860 species of plants and wildlife. Waterfalls and natural swimming pools are also popular.

Townsville should definitely be an overnight stop over point because the area has a wealth of attractions and things to do. The Strand is a long tropical beach and garden strip, Riverway is a parkland attraction. There is also a large tropical aquarium that houses much flora and fauna from the Great Barrier Reef and the local museum holds many relics from a sunken British warship. Aside from that, throughout the year, there are many festival and events that are ideal for all types of visitors including families and solo travellers.
Use our online search engine to source all local car hire suppliers between Cairns and Brisbane. You can then compare prices and social deals to ensure you are getting the best value for money.


Reliable Brisbane Car Hire From UDrive
The online booking process - Simple and straight forward booking process. Thumbs up! The selection of vehicles available - Depending on the location, more than satisfied with what I got at Brisbane The payment and online voucher process - Simple and straight forward Pick up experience - No hassle or problem encountered Vehicle details - Better vehicle than what I expected.