Great Prices
We challenge you to find cheaper! Our rates include unlimited mileage, one-way fees and roadside assist*. Why pay more?
Wide Selection
We have around 20,000 depots around the world. We offer a great range of vehicles at competitive prices, from the most reputable suppliers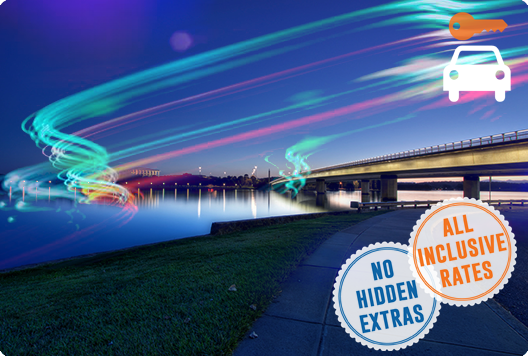 Canberra Information
Canberra is the capital city of Australia. With a population of over 345,000, it is Australia's largest inland city and the eighth largest Australian city overall. The city is located at the northern end of the Australian Capital Territory, 280 km (170 mi) south-west of Sydney, and 660 km (410 mi) north-east of Melbourne. The site of Canberra was selected for the location of the nation's capital in 1908 as a compromise between rivals Sydney and Melbourne, Australia's two largest cities. It is unusual among Australian cities, being an entirely planned city. Following an international contest for the city's design, a design by the Chicago architects Walter Burley Griffin and Marion Mahony Griffin was selected and construction commenced in 1913. The city's design was heavily influenced by the garden city movement and incorporates significant areas of natural vegetation that have earned Canberra the title "bush capital". Although the growth and development of Canberra were hindered by the World Wars and the Great Depression, it emerged as a thriving city after World War II.
As the seat of the government of Australia, Canberra is the site of Parliament House, the High Court of Australia and numerous government departments and agencies. It is also the location of many social and cultural institutions of national significance, such as the Australian War Memorial, National Gallery of Australia, National Museum of Australia and the National Library of Australia. The federal government contributes the largest percentage of Gross State Product and is the largest single employer in Canberra.
Canberra Car Hire Tip
It may actually be cheaper to rent your car at the airport! Compare our airport rates to the city centre rates as you may be better off picking up from the airport location.
Canberra Driving Information
The drive from Sydney to Canberra is 290 km and takes around three and a half hours from the Sydney CBD, less from outer suburbs in Sydney. The road is dual-carriageway, mostly freeway-like conditions from the Harbour Bridge all the way to Canberra, mostly with a 110km/h speed limit, via the M5 Motorway, Hume and Federal Highways. There are three sets of on-road services located on the Hume Highway between Sydney and the turn-off to the Federal Highway to Canberra, as well as many well-maintained and often scenic rest stops with toilets and picnic tables ideal for a picnic. Take drinks, as the rest areas have no water, or tank water which is not recommended for drinking. A third option which will enable you to see more of the countryside is to stop at one of the small towns in the Southern Highlands on the way which will have a cafe or two.
It is rare to make the entire trip between Canberra and Sydney without at least one police speed trap. The city of Goulburn, on the way to Canberra, is the training centre for New South Wales police officers and often send new recruits to run speed checks on the freeway. There are also several fixed speed traps, all of which are signposted in advance.
The drive from Melbourne to Canberra is 650 km and takes roughly eight hours on the Hume and Barton Highways, again mostly on dual-carriageway roads.
Compare Cheap Canberra Car Hire
Try our simple-to-use booking engine to compare car hire deals in Canberra. Type in your pickup and drop off locations & other information required and we'll immediately provide you with some quotations. Whether you're after an economy Canberra car hire, or a luxury Canberra rental vehicle, we have the perfect deal for you. Our low cost car rentals are provided by well-known suppliers such as Avis, Hertz and Europcar, but we can often provide better car hire rates!
Avis, Budget, Thrifty, Dollar, Hertz, Europcar, Sixt, Alamo, National & More!
Canberra, the capital city of Australia has held that status since 1908. It has earned the nickname of the "bush capital", thanks to its participation in natural earth campaigns and the "garden city movement" for urban planning.
Its prosperity was affected by the two world wars and also the great depression but it has successfully bounced back to become a popular tourist destination and centre for arts and entertainment. Regarding fun activities to do while on holiday, there is something for everyone but we are taking a look at free attractions and sites.
6 Free Things to do in Canberra
The Biblical murals of the Serbian Orthodox church of Saint George, never fail to amaze even the least religious visitors. Painted by the late artist Karl George Maztek, they cover the ceilings and walls. Entrance is free and it is open from Tuesday to Saturdays, from 10am to 4pm, shutting for a hour from 1pm to 2pm. Viewing arrangements should be pre-confirmed on this telephone number 0450 535 120.
On a Sunday, the market at the old bus depot features numerous arts and crafts. Even if you do not want to buy souvenirs such as homemade food, wines, jewellery, and household items, simply browsing through the stalls and chatting to local and regional artisans is an interesting experience.
Street musicians dotted on corners provide inspiring entertainment and numerous restaurants serve a delicious variety of snacks. As well as free entrance, there is no charge for parking.
The Canberra War Memorial is one of the greatest museums in the country. It covers all wars that have taken place over the historical timeline of Australia and exhibitions are constantly being updated. With free entry and a listing on Trip Advisor, as the number one attraction in Canberra, it is an attraction that is ideal for families, kids, couples or groups of friends.

The Canberra Deep Space complex will particularly interest kids, who will stand in awe at the large circular dishes, dotted over the landscape of which their primary purpose is receiving information from outer space. Located in the Tidbinbilla Valley, it is open daily from 9am to 5pm and a café within the grounds serves refreshments.

The gardens of the Old Parliament House will delight lovers of flowers, with their collection of roses. Guided tours are available, as well as a cafe and parking for the disabled. Open daily from 9am to 5pm, there is also the option to tour the adjourning museum for just 2 Australian dollars per adult. This museum is the one and only in the country that tells the story of Australian democracy, so the small cost is worthwhile.

The National Film and Sound Archive displays the history of Australia, using visual and hearing exhibits. They quote it is "living vision and sound" and their aim is to preserve the cultural heritage and identity of the country.

Further Reading

Canberra is a great destination while on a road trip of surrounding areas, or Australia. Our online search engine sources all local car rental suppliers to bring you the best prices and online deals.


Excellent broker - Canberra Car Hire
I generally hire through udrive and am happy with them. However the overall experience is very dependent on the car hire company and location.