Great Prices
We challenge you to find cheaper! Our rates include unlimited mileage, one-way fees and roadside assist*. Why pay more?
Wide Selection
We have around 20,000 depots around the world. We offer a great range of vehicles at competitive prices, from the most reputable suppliers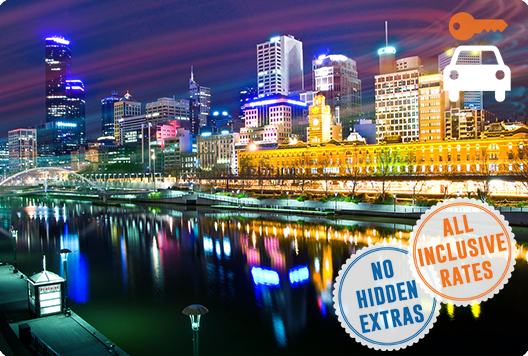 Quick! Book your great Melbourne car rental deal now and don't waste any more time! Melbourne offers Australian and international travellers so many wonderful opportunities, and it 's just perfect for a self-drive holiday. Melbourne is deservedly famous for its shopping, arts and theatre and fabulous food. Melbourne people take their coffee very seriously, and the quality and affordability of great international cuisines is hard to beat! The National Gallery of Victoria houses some of Australia's greatest paintings and the Ian Potter Centre at NGV has a world-class collection of international artists.
Melbourne Car Hire Tip
It may actually be cheaper to rent your car at the airport! Compare our airport rates to the city centre rates as you may be better off picking up from the airport location.
Drive Away Melbourne
There are so many great sights around Melbourne. You'd be crazy not to take advantage of our quick, easy on-line booking engine to catch a great car hire deal. Drive to the Dandenongs to enjoy beautiful scenery and birdlife. Visit the Mornington peninsula or Yarra Valley for excellent food and wine, less than an hour from Melbourne. Drive to Phillip Island to see the world's smallest penguins come up the beach. Cruise in your comfortable motor home to the Grampians, for stunning rocky outcrops and amazing wildlife.
Melbourne Airport
Tullamarine Airport is Melbourne's domestic and international airport and is around 25km or 25 minutes drive from the central business district. There are five car rental agencies on site, so collecting your Melbourne car rental will always be quick and easy. Tullamarine airport is undergoing a five-year re-development from 2007-2012, to provide better access and a more comfortable experience for travellers.
Food
Melbourne is understandably famous for its food and wine scene. It has a number of fresh food markets, including the historic Queen Victoria market in the city, plus the Prahran, South Melbourne and Camberwell markets. Melbourne's European cafe culture sees some of the world's best coffee and cake served up daily. A range of high-end chocolate boutiques, selling exquisite hot chocolates and desserts can also be found across town. Melbourne's ethnic food scene is characterised by diversity, affordability and quality. The Vietnamese eateries in Victoria St mean the name Little Saigon is justified. Eat Greek in Lonsdale St, Lebanese and Turkish on Sydney road, Italian in Lygon St and do NOT miss the delights of China town. There are also many high-end dining options, featuring innovative food to inspire the most discerning diner.
Emergencies
In an emergency, call 000 for police, fire and ambulance services. Foreign visitors to Australia need private health insurance, and there are public hospitals in all capital cities and most regional centres.
Compare Cheap Melbourne Car Hire
Try our simple-to-use booking engine to compare car hire deals in Melbourne. Type in your pickup and drop off locations & other information required and we'll immediately provide you with some quotations. Whether you're after an economy Melbourne car hire, or a luxury Melbourne rental vehicle, we have the perfect deal for you. Our low cost car rentals are provided by well-known suppliers such as Avis, Hertz and Europcar, but we can often provide better car hire rates!
Avis, Budget, Thrifty, Dollar, Hertz, Europcar, Sixt, Alamo, National & More!
The Perfect Melbourne Road Trip
Travelers never get tired of Melbourne, and a lot of people dream of seeing one of the famous cities in the Land Down Under. The country may be a big tourist mecca, but it is not at all cliché or cheesy. Tourists go to Melbourne, hire a great value rental car and go on a true blue Melbourne road trip. The pairing of old and new is not only pleasing to the eyes, it also appeals to the heart, mind and soul – and that is only Melbourne's main city district. As you drive your car hire outside city limits, the roads lead you to wonders that nature has birthed and man has helped shape.
The best way of seeing Melbourne is to hire a fantastic deal rent-a-car and go as far as your steering wheel can take you. It is great to drive around Melbourne because the people are disciplined and courteous. The roads are wide, attractive and complemented by clean, fresh air. Planning your perfect Melbourne road trip could be exciting as the city is fully packed with wonderful offerings. Spend one day as a local, another as a tourist and the rest of the days go crazy on Melbourne's quirky streaks.
Seeing Melbourne through the eyes of the locals lets you in on a world that is unbeknownst to most tourists. Traveling is awesome, especially if you are able to balance both ends of the spectrum. To get in touch with the pulse of Melburnians, go the route that most of them do. Upon landing at the Melbourne Airport, pick up your Melbourne car rental and drive straight to Degraves Street, a popular strip of quaint and cozy cafes; any café you go into is sure to serve you aromatic coffee to perk you up from your jet lag. Take full advantage of the coffee jolt and head to the Melbourne Cricket Ground Stadium to catch a football or cricket game, which the locals are big fans of. Get authentic Aussie meat pies as you feel the testosterone shoot up the atmosphere. Shake off the remaining energy and go for a quick walk at the Royal Botanic Gardens, a 4-kilometer well-manicured lush garden. Enjoy a snack of tea and Pavlova at the Hopetoun Tea Rooms. Prepare to get lost in time as the 1950s beckon. Take your car hire for a spin and marvel at the old structures. Once the sun starts dropping an inch, head over to the Esplanade Hotel, possibly the best spot to watch the sunset in the city. Enjoy a couple of mugs of beer (or amber nectar as they call it), a delectable chicken parma and maybe watch an Aussie band for some rock 'n' roll Aussie style. Don't get knocked out on drinks as the next day starts early.
Leave your hotel at around 7 in the morning and take your car rent to a leisurely stroll to the Yarra Valley. Once you get to the sprawling Yarra Valley, a hot air balloon ride is in order. Go up the sky as the sun does and see how magical the colors change from a drab grayish blue to vibrant greens and gold. If that's not worth the early wake up call, maybe the sumptuous breakfast followed by wine and cheese will more than make up for it. Take a tour of the vineyard and participate in wine tasting if you're up to it. Drive your car hire back to your hotel for a quick nap as another busy day ensues.
If you are planning a road trip from Sydney to Melbourne, preparation is vital to avoid any unwanted surprises or problems. The distance between these two big Australian cities is about 877Km and ideally, it is worth exploring all the attractions mid route so make it a three to four day holiday.
The route from Sydney to Melbourne is nothing less than a beautiful dream. Drive on the coastline with a fantastic ocean view, sight of crystal water leading up the horizon and surrounding flora. It all makes for dramatic scenery that has appeared in many well-known travel publications. The road trip will also take you through the capital of Australia that, despite common thinking, it is not Sydney but it is Canberra.
Preparation tips for a Sydney to Melbourne Road Trip
Australia is well known for wet and dry weather which can cause trouble if you don't plan your trip ahead of time. The summer season runs from December to February and this is the best time so you can stop off for swimming breaks at many of the renowned beaches on the route. Spring from September to November is also ideal but the wet season kicks in from March to August.
It goes without saying that a map is essential and also be aware that it is possible to drive many miles without seeing any road side stops. Prepare by stocking up on snacks and water before departing. Also make sure the petrol tank is full. Everyone must wear seat belt and refrain from drink driving. The allowed blood alcohol content is 0.05% however there are certain restrictions which change the law to zero tolerance.
Wildlife jumping out on the road is also a possibility. This country is famous for its many wild animals and if you run into a red kangaroo, for example, it will cause intense damage to the vehicle, as well as put the driver and passenger's safety into jeopardy. Keep a sharp eye out and if there is more than one driver in the group, change frequently.
Last but not least, do some research before leaving so you do not miss out on well-known landmarks and attractions. If you take the coastal road, sites to see include whale watching at Jervis Bay, craft shops showcasing aboriginal art and many museums. It is also worth mentioning that in summer, accommodation is in high demand so pre-book to avoid disappointment.
Source Car hire Suppliers in Australia
We list all the major car hire suppliers throughout Australia including Melbourne and Sydney. Get the best deals by using our search engine tool to find car rental agencies.


As always I have no problem with anything with my last car rental through your company. Thanks again for the cheap car rentals