Great Prices
We challenge you to find cheaper! Our rates include unlimited mileage, one-way fees and roadside assist*. Why pay more?
Wide Selection
We have around 20,000 depots around the world. We offer a great range of vehicles at competitive prices, from the most reputable suppliers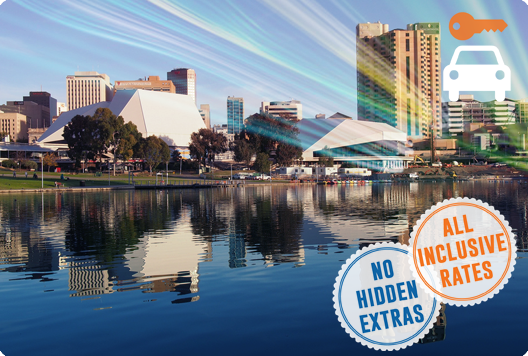 Adelaide Information
Adelaide is the capital and most populous city of the Australian state of South Australia, and is the fifth-largest city in Australia, with a population of more than 1.1 million. It is a coastal city situated on the eastern shores of Gulf St. Vincent, on the Adelaide Plains, north of the Fleurieu Peninsula, between the Gulf St. Vincent and the low-lying Mount Lofty Ranges. It is roughly 20 km (12 mi) from the coast to the foothills but sprawls 90 km (56 mi) from Gawler at its northern extent to Sellicks Beach in the south.
As South Australia's seat of government and commercial centre, Adelaide is the site of many governmental and financial institutions. Most of these are concentrated in the city centre along the cultural boulevard of North Terrace, King William Street and in various districts of the metropolitan area. Today, Adelaide is noted for its many festivals and sporting events, its food, wine and culture, its long beachfronts, and its large defence and manufacturing sectors. It continues to rank highly as a livable city, being in the Top 10 in The Economist's World's Most Livable Cities index.
Adelaide Car Hire Tip
It may actually be cheaper to rent your car at the airport! Compare our airport rates to the city centre rates as you may be better off picking up from the airport location.
Adelaide Airports
Adelaide has two Airports, Adelaide International Airport and Parafield Airport.
Adelaide International Airport, located in Adelaide's west, is Australia's newest and most advanced airport terminal and is designed to serve in excess of 6.3 million passengers annually. The new dual international/domestic terminal named T1 incorporates glass aerobridges and has the ability to cater for the new Airbus A380. In March 2007, Adelaide Airport was rated the world's second best airport in the 5-15 million passengers category at the Airports Council International (ACI) 2006 awards in Dubai.
The airport is designed to handle 27 aircraft simultaneously and is capable of processing 3,000 passengers per hour. Unusually for a major city, it is located only about seven kilometres (4.4 mi) from the CBD.
Parafield Airport Adelaide's second airport, located eighteen kilometres (11.2 mi) north of the CBD is used for small aircraft, pilot training and recreational aviation purposes only.

Driving in Adelaide
Although the city centre is easily walked or travelled by public transport, as Adelaide's public transportation network is limited and infrequent outside the city centre and the major transport hubs (like Glenelg), renting a car is the most practical way of getting around Adelaide, particularly if you want to head into the suburbs. All the big international companies have an office at Adelaide airport and there are also depots in the central city area.
Compare Cheap Adelaide Car Hire
Try our simple-to-use booking engine to compare car hire deals in Adelaide. Type in your pickup and drop off locations & other information required and we'll immediately provide you with some quotations. Whether you're after an economy Adelaide car hire, or a luxury Adelaide rental vehicle, we have the perfect deal for you. Our low cost car rentals are provided by well-known suppliers such as Avis, Hertz and Europcar, but we can often provide better car hire rates!
Avis, Budget, Thrifty, Dollar, Hertz, Europcar, Sixt, Alamo, National & More!
The Adelaide to Darwin route is one of the most popular self-drive holidays in Australia. Covering more than 3000 kilometres, it follows in the footsteps of intrepid explorer John McDouall Stuart who bravely explored the areas in the middle of the 19th century.
Many highlighted attractions sit on the route which stems from South to North Australia, including quirky and rather strange, outback pubs, the famous town of Alice Springs and the UNESCO World heritage site of Uluru-Kata. Explore sites connected with Australia's famous gold rush in the 1920s and re-trace John Stuart's footsteps on the Stuart Highway, located between Port Augusta and Darwin.
Planning a Road Trip From Adelaide to Darwin
Time Needed
Most itineraries complete the route in an average of 14 days, however we advise that if time permits, extend this to 21 days. This will give you a chance to visit more attractions, and gain an idea of local community life of the area. After all, they often say the best kept secrets of any destination are held with the locals!
Highly Recommended Attractions
• Barossa Valley that is famous for its wine production and local cuisine
• Flinders Rangers National park to see Aboriginal rock art sites
• Coober Pedy where underground homes and churches are the norm
• The famous outback town of Alice Springs
• Uluru-Kata Tjuta National Park, where you can tour with an aboriginal guide
• Devils marbles which according to mythology are the eggs of the Rainbow Serpent
• Katherine which was a pioneering town and also home to beautiful places of natural beauty

Car Rental
The best type of drive if you plan to get off the beaten track and explore the route fully is a 4 wheel. Alternatively, camper vans are a good option for the more independent traveller. Compare the costs and deals of all car hire suppliers in Adelaide and Darwin by using our comprehensive online search engine.
Useful Tools
We find the Camps Australia Wide Package, extremely useful. They list a variety of camps, caravan parks and apps to help you along the way. Readers give feedback on the camps they have visited and the publishers also list a wide variety of resources that will definitely come in use.
We also particularly like this extensive map from the South Australian tourism board. It shows the planned route, suggested itinerary, places of interest to visit and also hints and tips on climate, clothing and driving in various terrains.

Accommodation
There is a wide choice of motels, hotels, camp sites and caravan parks to choose from. All differ in price, facilities and amenities and to source somewhere to stay, use the resource book we suggest above or booking.com which displays comprehensive reviews from previous users. It is advisable to book your accommodation in advance.

Regarding the rental car through UDrive.com.au
We were very happy with all the services. We will certainly use UDrive again and will recommend it to friends.