Great Prices
We challenge you to find cheaper! Our rates include unlimited mileage, one-way fees and roadside assist*. Why pay more?
Wide Selection
We have around 20,000 depots around the world. We offer a great range of vehicles at competitive prices, from the most reputable suppliers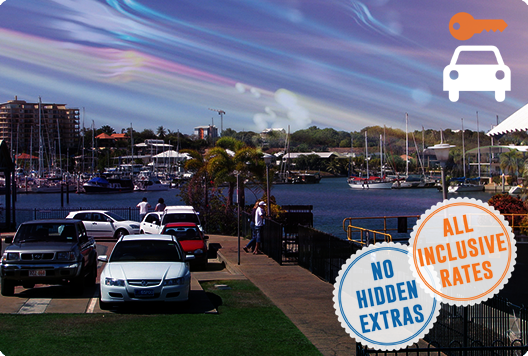 Darwin Driving Information
The Stuart Highway is the only highway into Darwin; heading directly into the city centre and extending southwards all the way to Alice Springs (about 1,500km) and Adelaide (3,042km). You can access Darwin from all the Australian capital cities staying on regularly trafficked sealed (bitumen) roads with regular services. The drive from Sydney or Perth is about 4000km - 4500km depending on the route you choose, plan your trip and your stops carefully. Don't assume you can get fuel at night.
Darwin Car Hire Tip
It may actually be cheaper to rent your car at the airport! Compare our airport rates to the city centre rates as you may be better off picking up from the airport location.
Darwin Information
Darwin is the capital city of the Northern Territory, Australia. Situated on the Timor Sea, Darwin has a population of 120,652, making it by far the largest and most populated city in the sparsely populated Northern Territory, but the least populous of all Australia's capital cities. It is the smallest and most northerly of the Australian capital cities, and acts as the Top End's regional centre.
Over time Darwin has grown from a pioneer outpost and small port into one of Australia's most modern and multicultural cities. Its proximity to Asia makes it an important Australian gateway to countries such as Indonesia and East Timor. The Stuart Highway begins in Darwin, ending at Port Augusta in South Australia.
The city itself is built on a low bluff overlooking the harbour. Its suburbs spread out over some area, beginning at Lee Point in the north and stretching to Berrimah in the east - past Berrimah, the Stuart Highway goes on to Darwin's satellite city, Palmerston, and its suburbs.
The region, like the rest of the Top End, has a tropical climate, with a wet season and a dry season. It receives heavy rainfall during the Wet, and is well-known for its spectacular lightning.
The city has many kilometres of wide, unpolluted beaches, including the Casuarina Beach and well renowned Mindil Beach, home of the Mindil Beach markets. Swimming in the sea during the months of October - May should be avoided due to the presence of deadly box jellyfish which are known locally as sea wasps. Saltwater crocodiles are very common in all waterways surrounding Darwin and are even occasionally found swimming in Darwin Harbour and on local beaches.
Compare Cheap Darwin Car Hire
Try our simple-to-use booking engine to compare car hire deals in Darwin. Type in your pickup and drop off locations & other information required and we'll immediately provide you with some quotations. Whether you're after an economy Darwin car hire, or a luxury Darwin rental vehicle, we have the perfect deal for you. Our low cost car rentals are provided by well-known suppliers such as Avis, Hertz and Europcar, but we can often provide better car hire rates!
Avis, Budget, Thrifty, Dollar, Hertz, Europcar, Sixt, Alamo, National & More!
The Adelaide to Darwin route is one of the most popular self-drive holidays in Australia. Covering more than 3000 kilometres, it follows in the footsteps of intrepid explorer John McDouall Stuart who bravely explored the areas in the middle of the 19th century.
Many highlighted attractions sit on the route which stems from South to North Australia, including quirky and rather strange, outback pubs, the famous town of Alice Springs and the UNESCO World heritage site of Uluru-Kata. Explore sites connected with Australia's famous gold rush in the 1920s and re-trace John Stuart's footsteps on the Stuart Highway, located between Port Augusta and Darwin.
Planning a Road Trip From Adelaide to Darwin
Time Needed
Most itineraries complete the route in an average of 14 days, however we advise that if time permits, extend this to 21 days. This will give you a chance to visit more attractions, and gain an idea of local community life of the area. After all, they often say the best kept secrets of any destination are held with the locals!
Highly Recommended Attractions
• Barossa Valley that is famous for its wine production and local cuisine
• Flinders Rangers National park to see Aboriginal rock art sites
• Coober Pedy where underground homes and churches are the norm
• The famous outback town of Alice Springs
• Uluru-Kata Tjuta National Park, where you can tour with an aboriginal guide
• Devils marbles which according to mythology are the eggs of the Rainbow Serpent
• Katherine which was a pioneering town and also home to beautiful places of natural beauty

Car Rental
The best type of drive if you plan to get off the beaten track and explore the route fully is a 4 wheel. Alternatively, camper vans are a good option for the more independent traveller. Compare the costs and deals of all car hire suppliers in Adelaide and Darwin by using our comprehensive online search engine.
Useful Tools
We find the Camps Australia Wide Package, extremely useful. They list a variety of camps, caravan parks and apps to help you along the way. Readers give feedback on the camps they have visited and the publishers also list a wide variety of resources that will definitely come in use.
We also particularly like this extensive map from the South Australian tourism board. It shows the planned route, suggested itinerary, places of interest to visit and also hints and tips on climate, clothing and driving in various terrains.

Accommodation
There is a wide choice of motels, hotels, camp sites and caravan parks to choose from. All differ in price, facilities and amenities and to source somewhere to stay, use the resource book we suggest above or booking.com which displays comprehensive reviews from previous users. It is advisable to book your accommodation in advance.

I have used Nova numerous times, mainly in Australia but also in Europe. Highly recommended.