Great Prices
We challenge you to find cheaper! Our rates include unlimited mileage, one-way fees and roadside assist*. Why pay more?
Wide Selection
We have around 20,000 depots around the world. We offer a great range of vehicles at competitive prices, from the most reputable suppliers
24/7 Hotline
We provide 24/7 service while you're on the road. You can also call 1800 761 192 , leave a message, and we'll return your call.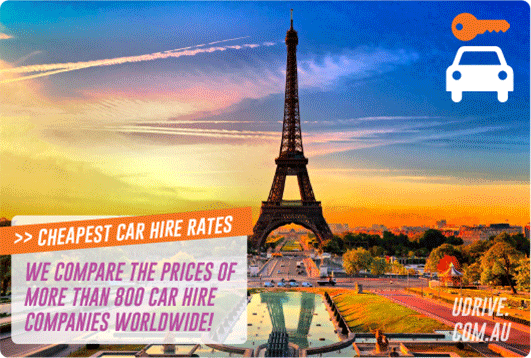 France offers independent travellers so much. Art lovers and romantics will adore Paris, with the Louvre, the incredible Musee D'Orsay and the Pompidou Centre all stuffed with artistic treasures. The Eiffel Tower, Notre Dame Cathedral and boat trips along the Seine will have you clasping your dearest in a swoon of passion. Sun lovers and the glitterati can't get enough of the Cote D'Azur, with the glamourous Cannes and St Tropez providing excellent people-watching opportunities. For ridiculously beautiful countryside and exquisite chateaux, there are several regions to visit including Provence, the Dordogne, the Loire and Languedoc. History buffs will find the battlefields of Normandy fascinating. Wine lovers will find plenty to keep them amused in the famous wine regions of Burgundy, Bordeaux and Champagne. To explore the cuisine of France, visit Marseille for authentic bouillabaisse, cheesy raclette in the French Alps, Boeuf Bourguignonne in Burgundy and Fois Gras in Landes. Don't miss the chance to sample the black truffles of Perigord.
In Paris, taking the metro and walking are by far the best ways of getting around. Outside Paris, it is strongly recommended that travellers use their own rental vehicle to take in France's offerings. The most charming places are small towns, coastal resorts and exquisite countryside, none of which can be easily accessed without one's own Udrive.com.au France car rental.
Climate and Weather
Apart from snowy alpine regions, France's climate is generally temperate. The north-west can be wet and windy, with harsh weather blowing in from the Atlantic. Corsica and the Cote D'Azur enjoy typical Mediterranean weather - hot and sunny in summer, and pleasantly mild the rest of the year. Paris and non-coastal areas can be blazingly hot in summer, and travel costs in July and August can be exhorbitant. Autumn and Spring are lovely times to travel. Spring in particular sees Paris at its most radiant, though there is also a charm in a darkened sky and bare trees against a Parisian skyline, with cosy bistros and cafes providing perfect relief from cool evenings. Winter also provides excellent winter sporting opportunities. If you have an unlimited budget, the winter ski resorts of Val d'Isere, Chamonix and Meribel provided ample opportunities to spend up big and show off the latest apres-ski fashions.
Transport
Public transport in France is generally reliable and efficient. The metro in Paris is incredibly efficient and easy to use. Buy a carnet of 10 tickets for great value travel - hopping on and off the metro while visiting the sites around town over a few days will ensure it gets used up. Walking in Paris is also a good idea, to soak up the city vibe. Boat cruises along the Seine, while touristy, provide a lovely way to while away an afternoon, and can really help to orient yourself to the city.
The intercity train system in France is excellent, and some fast trains run on major routes. It's easy to get information on routes even between lesser destinations using secondary lines - the trains are still very comfortable. See http://www.raileurope.com for more information. Also remember the Eurostar, between London, Brussels and Paris. It's really fast, and buying tickets well in advance will provide opportunities to make great savings.
Driving in France
Our suppliers have pick up and drop off depots all over France. You'll find it easy to collect your France rental car from airports, train stations or at numerous locations throughout cities and towns. French roads are very safe and well made. There are numerous autoroutes, or motorways which charge quite high tolls. Driving directly across France can be expensive for this reason. A cheaper and more scenic option is to take minor, meandering roads through the French countryside. Be warned! This will take much, much longer, given that you will frequently be tempted into stopping for taking photos, looking through quaint shops in tiny villages, or tasting regional wines in pretty towns.
France car rentals really make your experience of France. Driving through Provence or the Dordogne allows you to take it at your own pace, to explore what's down this little lane, or stop for photos of that gorgeous chateau. Driving in France is on the right hand side of the road and the blood alcohol limit is 0.05%. Wearing seatbelts is compulsory in the front and back seats and children under 10 must not sit in the front. It is compulsory to carry a visibility vest and hazard triangle.
Food
Food is reason enough to visit France. For travellers trying to make the budget stretch, many delicious picnics of baguettes, cheese and charcuterie (cured, processed or smoked meats), perhaps washed down with a local wine and finished off with a tart from the nearest patisserie. Indeed, the choice of cheese and charcuterie can be quite overwhelming to the uninitiated, but the French passion means that the provedore will generally be more than happy to give you some tastes and guide your choices. Such picnics can leave some money in the budget for special occasion fine dining at one of France's many Michelin-starred restaurants.
Be mindful that there are plenty of ways to eat affordable, authentic foods throughout France. Generally, meals in rural towns are less expensive than those in Paris. Avoid tourist traps with large English menus adjoining major tourist attractions. Instead, learn a little important food vocabulary such as 'plat du jour,' meaning dish of the day, and 'menu du jour,' or 'menu a prix fixe' which both mean fixed menu of the day. This fixed menu can often be excellent value, especially at lunchtime. If usually offers a salad or soup, a main dish and a dessert or cheese to finish. Sometimes it also includes a glass of wine. If you make an effort to understand, and ask for assistance, you'll often find a helpful waitress or waiter to help translate the menu and make a recommendation, or even a nearby patron. The French are nowhere near as precious about non-French speakers as the English like to make out - provided you're polite, respectful, and seeking their advice on a subject they feel well-informed about! In rural areas, it can be difficult to find English speakers or English menus, but this provides a wonderful opportunity to surrender to the experience and try something new!
Compare Cheap France Car Hire
Try our simple-to-use booking engine to compare car hire deals in France. Type in your pickup and drop off locations & other information required and we'll immediately provide you with some quotations. Whether you're after an economy France car hire, or a luxury France rental vehicle, we have the perfect deal for you. Our low cost car rentals are provided by well-known suppliers such as Avis, Hertz and Europcar, but we can often provide better car hire rates!
We have a whopping 580 pick up locations in France. Please select your car rental pick up location from our booking engine or by clicking on the 'Book' link above.
Marseille - Vitrolles | Nancy Fleville | Neufchateau | Perpignan - Avenue | Saint Quentin Gare | Agen - Airport | Amelie les Bains | Argeles Sur Mer | Aubergenville | Fontaine (Rhone Alpes area) | Caen - Ferry Port | Calais - Place D'Armes | Etaples le Touquet | Strasbourg Train Station | Strasbourg Airport | Tours City | Toulon - Airport | Toulouse - Airport | Toulouse - Train Station | Perpignan | Bayonne | Paris - Porte D'asnieres | Paris - Gare St Lazare | Paris - Garibaldi Shell St | Paris - Carrousel-louvre | Paris - Fbg Poissonniere | Paris - Shell Driant | Paris - Paul Doumer | Paris - Soult Stn Oil | Paris - Lecourbe Stn Oil | Bethune | Cap D'agde Agip Station | Valreas Downtown | Mulhouse Gare | Mulhouse Airport | Nancy | Nancy Gare | Narbonne | Nantes Airport - Brittany | Nice - Train station | Nantes Gare SNCF | Villeneuve D'ascq Shell | Avranches | Biscarrosse | Brest | Belfort | Biarritz | Brignoles | Bourges | Bourg en Bresse | Brive - Train station | Brive - Airport | Nice - Airport International | Nimes Airport | Auch | Vierzon | Arras | Bourg En Bresse - Train station | Moriani North- Corsica | Moriani South- Corsica | Corte- Corsica | Ghisonaccia- Corsica | Saint Florent- Corsica | Brignoles- IKC | Cavaillon- IKC | Draguignan IKC | Pertuis-IKC | St Maximin En Provence | Avignon | La Tranche Sur Mer | Paris - Etoile Foch | Beziers - Train Station | Boulogne - Billancourt | Meudon | Montbard | Rennes - Route De Lorient | Saint Quen | Gevrey Chambertin | Campinchi | Coignieres | Maisons Alfort | Marseille - Avenue du Prado | Megeve ( Mountain Station) | Porticcio ( Corsica) | Vittel | Paris - Convention | Toulouse - Avenue Des Cretes | Blaye | Rungis | La Ciotat | Les Herbiers | Pouzauges | Paris - Le Bourget Airport | Loriol IKC | Sant'Ambrogio | Lyon - Centre Garibaldi - IKC | Paris - Avenue de Saxe | Paris - La Defense 5 | Lyon
France Information
Much has been said about the spunky country of France, from generous adulation to piercing criticism. France and its people have been called a lot of things – amorous, sexy, obnoxious, irresponsible, chic to mention only a few; this is most of what the country is about: one of many identities. It is home to one of the world's most famous landmarks, to delectable cuisine and heavenly wine, to bodies that adore food but never bloat and to paradise beaches. What should a car rental holiday vacationer do when in France? Embrace the country for what it is and what it has to offer – good or bad; it'll surely be a car rental holiday you will never forget in a million lifetimes.
Going around France
The train is great in traveling from city A to city B although you have to be really careful where you purchase your train tickets as ticket fraud is one of the major problems that the country faces and the tourists fall victim to. Hiring car rental services is the number one recommended way of exploring the intriguing country. When renting a car hire in advance, you have to be very specific of the model you prefer, otherwise, France car rental companies could end up giving you their old models.
From the Airport
The Roissy-Charles de Gaulle Airport is France's primary international hub, which is found 25 kilometers north of Paris. Rail and bus services transport passengers from the CDG airport to the main district of Paris. There are also a great number of car rental companies at the CDG airport, where you can negotiate for a fantastic France car rental deal. Most of France car rental agencies are tied up with online car rental providers so you can also book your France car hire ahead of time.
Places to See
Aside from romance, art is a great part of the French lifestyle, both of which may go in hand. Art enthusiasts (and poseurs even) are sure to be pleasured by the myriad galleries and museums that can be found all over the country. Treat your senses to the world's most spell-binding art works by driving your car rental to the following museums: Orsay Museum, Rodin Museum, Louvre Museum, Picasso Museum and Centre Pompidou. Drive your France car hire among the undulating vineyards and wineries in Champagne, the best place to go on a winery tour. Book a wine tasting tour and you will realize just how indulgent and opulent French wine tastes. What is an amorous country without oysters? Feast on the celebrated aphrodisiacs in Gujan Mestras, the country's oyster-farming capital. And, must it still be said, go to the Eiffel Tower, whether for a requisite photo-op or a view of the dazzling city lights, just go.
Nearby Countries
After sipping the world's best wine in France, go on a car rental holiday in Belgium for superb beer and chocolates.
Car Rental Services Directory in France
Avis
Charles de Gaulle Airport
Terminal 2 A B C D
Paris 95711
Europcar
48 Rue de Berri
75008 Paris Berri Champs Elysee
Hertz
99 Rue de Rivoli
Musee du Louvre
0 false 18 pt 18 pt 0 0 false false false
Paris
France is an intriguing country with a turbulent history, sometimes strange but tasty cuisine and of course, scenic landscapes, and bustling metropolises that are ideal for city breaks. With culture and traditions, that are typically European; it appeals to a wide range of people and regularly receives more than 80 million foreign visitors each year. At UDrive, we love our road trips a lot, so have collated a list of famous and popular places in France that should be on your bucket list.
Visit 6 Famous Places in France
Your first destination should be the artistic and modern city of Paris. A four day city break is ample time to tour major attractions like…
• The Louvre that holds the famous Mona Lisa painting and receives more than 15,000 visitors a day
• The historical landmarks of the Eiffel tower and Arc de Triomphe
• The Catholic cathedral of Notre Dame that took nearly 200 years to complete
• In the suburbs is the Palace of Versailles, most famously known for resembling the end of the French monarchy during the 18th century
• The Champs-elysees is one of the world's most famous streets, where historic landmarks reside and luxury shops do a roaring trade
• 32 kilometres away from Paris is Disneyland that is ideal if the kids are touring with you

Bordeaux is the wine capital of France because it has been producing quality wine since the 8th century and also hosts the country's biggest wine festival. As well as touring vineyards, explore the historical part of the region that is on the UNESCO World Heritage list. Also visit the Cathedral of Saint Andre

Chamonix is one of the oldest ski resorts. This destination is definitely for adrenaline seekers with a range of sports on offer including rock climbing, wingsuit flying, and extreme skiing. Of course, if you want to stay relaxed, take a ride on the cable car giving an amazing panoramic view over the landscape.

The French Riviera includes famous destinations such as the film festival region of Cannes, the arty city of Nice and the luxurious, celebrity stamped destination of Saint Tropez.

As the second largest city in France, Marseille is also ideal for a four-day city break. Major attractions to see include…
• Shopping districts of Centre Bourse and St Ferreol
• The 5th century abbey of Saint Victor
• The Natural History Museum
• The Chateau d'if
• The Centre de la Vieille that is an exhibition centre and archaeological museum
• At night, eat out in the old port area housing many waterside restaurants

The Loire Valley covers roughly 800 square kilometres and is ideal for people who love outdoors and nature. Known as the "Garden of France," also explore villas, historic towns and bountiful vineyards.

Get Around France: Car hire and rental is an efficient way to tour all the famous places mentioned above. Our online search engine lists suppliers in all regions to bring you the best rates on daily and weekly car hire packages.

---
Top Car Hire Locations in France
---
Just wanted to let you know what a great trip we've made through Europe. But most importantly how seamless the organisation was by you. I called Calais as instructed prior to collection, and spoke with Stanislas, who's use of English was very helpful for me. He arranged to collected me from the ferry terminal. Delivered me to my car, and went through all the relevant items before sending me on my way. It couldn't have gone more smoothly especially the fact, passport issues for my wife, meant I travelled ahead on my own to collect the car. Meeting Kate a few days later in Hamburg. The car performed perfectly, and was quite comfortable for the trip. SatNav a godsend! Drop off was equally as simple, calling Rome a few days prior. Again staff there made it easy with the use of English. Ten minutes later we were being transferred to the airport. Again, all too easy. I'm so pleased to say that the entire trip went without a drama.
Great Car Hire From UDrive
We had no problems with our recent hire in Dijon, France and the service was great I was very pleased.
We were very happy with the arrangement. Car was ready on time and we did over 5500 Kms without a hitch. Puegot performed very well and very economical on fuel. We will use your setup again.
I was extremely impressed by the whole car hire experience - the pickup at Grenoble Station was easy, a great selection of cars - and travel was very economical with a diesel car. I am glad we had a small car as a lot of the streets were very narrow.