Great Prices
We challenge you to find cheaper! Our rates include unlimited mileage, one-way fees and roadside assist*. Why pay more?
Wide Selection
We have around 20,000 depots around the world. We offer a great range of vehicles at competitive prices, from the most reputable suppliers
24/7 Hotline
We provide 24/7 service while you're on the road. You can also call 1800 761 192 , leave a message, and we'll return your call.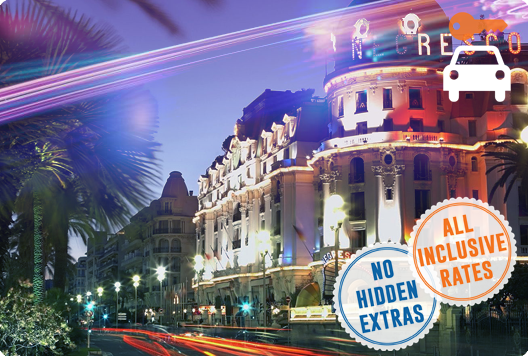 Nice is a fabulous place to rent a car. It's not only a great base for exploring the glamourous and wonderful Cote D'azur, but also incredible Provence. Throughout the seasons, this gorgeous region has plenty to offer and the only way to see it is to drive yourself! Nice itself is easily accessible by rapid train from Paris or Italy, and is also a destination for several budget European airlines. It is a charming city, the capital of the Riviera. It has several fine museums, an old harbour, a vibrant night life and some great markets.
Driving Around Nice
Monaco and the wonderful Monte Carlo casino are only a short drive from Nice. In the other direction, drive to Cannes, Antibes and St Tropez. Watch the glamorous people, stroll past the yachts and flash hotels, and have dinner and drinks on the waterfront. The coastal drive itself is incredibly scenic - but make sure the driver's eyes are on the road!
From Nice, you can also drive north through the stunning region of Provence. In the height of summer, you'll be swept away by the beautiful fields of lavender and the acres of sunflowers will seem familiar - didn't Van Gogh do something like this? He sure did, and having your own Nice rental car will allow you to stop for many photo opportunities, so you'll find like you're stepping into one of troubled Vincent's famous paintings. In Spring, the almond and cherry trees start to blossom around March, and provide an equally lovely, but different perspective on the region. In Autumn you can experience torrential downpours throughout Provence, but most of the time it's wonderful for its golden foliage. Plus, the wine harvest starts in September, and in November the olive and truffle harvests begin which brings the place to life.
While Provence is accessible on a quick drive through on the A7 from Paris, try to get off the toll road, where there's no scenery. Drive the country lanes, and between the lovely towns of Aix en Provence and the must-do Avignon, you should also check out the villages of Saint Victor La Coste, Uzes and the small town of Orange.
Having your own vehicle allows you to wander through at your own pace, stopping for coffee, snacks or even overnight when you find the prettiest place, or the greatest onion tart!
Attractions in Nice
Within Nice itself, you can while away many hours simply wandering up and down the promenade des Anglais at different times of the day. There are also several good museums. You can buy a museum pass for either 60+ Cote D'Azur museums, or just one for the Nice museums. The price depends on the number of days for which it's valid. Nice museums worth checking include the Musee d'ArtModerne et d'Art Contemporain which has great works from the 1960s on. Also check out the Musee Matisse.
While large sections of the beach are private and for the use of the hotels and clubs along the shore, these are interspersed with public sections which are free to use. Many of the private sections allow anyone to use them, provided you pay around 15 euros per day to rent a chair.
Regional Cuisine from Nice and surrounds
Of course there's salade nicoise! But don't forget farcis (stuffed vegetables, especially zucchini flowers,) and also ratatouille. Provencal dishes tend to be heavy on tomatoes, garlic and olive oil, so ratatouille is quite exemplary of the area. Aioli is often served with eggs, vegetables or salad. While Marseilles is said to be the home of bouillabaisse in France, it can be found all along the Cote D'Azur. There are good bouillabaisse and plenty of bad ones. It should contain at least three kinds of fish, and be prepared fresh. Do not buy a bouillabaisse which costs less than 20 euros - as that's how much it costs to make a good one. If your budget doesn't stretch that far, choose to eat something else, rather than the bad, cheap stuff manufactured from frozen, second rate products.
Compare Cheap Nice Car Hire

Try our simple-to-use booking engine to compare car hire deals at Nice. Type in your pickup and drop off locations & other information required and we'll immediately provide you with some quotations. Whether you're after an economy Nice car hire, or a luxury Nice rental vehicle, we have the perfect deal for you. Our low cost car rentals are provided by well-known suppliers such as Avis, Hertz and Europcar, but we can often provide better car hire rates!
Avis, Budget, Thrifty, Dollar, Hertz, Europcar, Sixt, Alamo, National & More!
On the southeast coast of France, lies the city of Nice. As part of the Mediterranean, it is an attractive destination luring thousands of visitors every month. The official name is Nice la Belle, which means "nice the beautiful," serving as a worthy testament to the beauty and diversity of the region.
It was first noticed as an ideal holiday destination in the later part of the 19th century when rich upper-class families from English society chose to allocate their winter bases in the region. There is even a promenade called the walkway of the English dedicated to the earlier promoters of tourism in the region. These days, it has become one of the most visited cities in France due to its luring atmosphere and vibes. The city also has a hot Mediterranean summer climate making it great for family holidays.
Top tourist attractions in Nice, France

• Walk the Promenade Des Anglais, which is a nice coastal walk with fantastic views. It leads to the Place Masséna that is the main square of the city with a variety of restaurants, cafes, and small boutique shops
• Place Garibaldi will particularly impress architecture buffs. It is a mainly pedestrian area with a large statue of Garibaldi in the middle
• In the heart of the old town is Place Rossetti that is home to some of the best ice-cream makers in France. It typically comes alive at night-time when it is lit up.
• Sainte Reparate cathedral dates from the 17th century and is dedicated to the Virgin Mary. Although its size pales in comparison to other more grand cathedrals around the world, the architecture is still impressive.
• Check out festivals for the time that you will be travelling because Nice has many festivals throughout the year including Jazz!
• Buy a French Riviera pass that will get you free access to a variety of establishments and the benefit of joining guided tours around the area.
• The physically fit should walk to the top of Castle Hill for an amazing panoramic view of the city
• Marc Chagall was a Russian painter and all his works are found in the National Museum
• The Phoenix Park is a great place to spend the day with family and kids. Introducing a green area as well as flora and fauna, it is cheap to enter.
• Get on a bus and visit the ancient Convent of Cimiez

We shall never forget that wonderful road trip and we shall recommend to all our friends and relatives your company, it was so convenient, especially because of language barrier. Not me not my husband speak french. Also pricing off course, Regards.