Great Prices
We challenge you to find cheaper! Our rates include unlimited mileage, one-way fees and roadside assist*. Why pay more?
Wide Selection
We have around 20,000 depots around the world. We offer a great range of vehicles at competitive prices, from the most reputable suppliers
24/7 Hotline
We provide 24/7 service while you're on the road. You can also call 1800 761 192 , leave a message, and we'll return your call.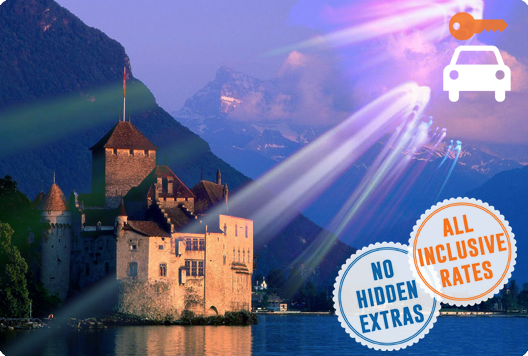 Geneva Information
Geneva, Switzerland's second-most populous city, is one of the world's major centers of international diplomacy, having served as the site of the initial headquarters of the International Committee of the Red Cross. Although the United Nations is now headquartered in New York, the organization still retains a large presence in Geneva at the Palais des Nations and many of its sister/child organizations, such as the World Health Organization and ILO. Geneva itself has only 188,000 citizens but 780,000 people live in the metropolitan region (Jan. 2009).
Geneva Driving Information
The motorway network brings you right into Geneva, only 40km from Annecy and 80km from Chamonix with customs at Bardonnex - Saint-Julien. You need the compulsory motorway sticker (single annual 40CHF fee) to come through this customs office. Purchase of the motorway tax sticker (aka Vignette) at one of the customs is obligatory in order to drive on Swiss motorways.
To avoid the purchase of a vignette, you can enter Geneva through other crossing points at Bardonnex or Mouillesulaz, for example. If, however, you decide later to drive on the motorway, you will need to purchase a vignette - you can generally purchase the vignette at Petrol Stations, Post Offices or at Tourist Offices.
Compare Cheap Geneva Car Hire

Try our simple-to-use booking engine to compare car hire deals at Geneva. Type in your pickup and drop off locations & other information required and we'll immediately provide you with some quotations. Whether you're after an economy Geneva car hire, or a luxury Geneva rental vehicle, we have the perfect deal for you. Our low cost car rentals are provided by well-known suppliers such as Avis, Hertz and Europcar, but we can often provide better car hire rates!
Avis, Budget, Thrifty, Dollar, Hertz, Europcar, Sixt, Alamo, National & More!
Geneva is the second largest city of Switzerland and also a major player on the international stage of commerce. It is most noted for being the headquarters of the UN and also the location of where the international Geneva treaties were signed. There are many attractions that are waiting to be explored. Eight two buildings and sites are protected under heritage law and most of them are open to the public.
Eight places to see in Geneva

One of the most well-known landmarks of Geneva is the Jet d'Eau, also known as the Rade and holding the record as the world's tallest jet of water. It is a water fountain reaching 140 metres up into the air. See it from a distance but no doubt, the landmark is more spectacular when viewed up close. Just be prepared to get wet!

If you are able to complete the steep walk up hill, the streets of the old town often throw up unexpected surprises. This urban area is historically rich for architecture and small boutique shops. Road side cafes prove popular as does the major attraction of the Barbier-Mueller Museum.
Nearby is a magnificent building called the Cathédrale St-Pierre. Belonging to the Swiss reformed church, the blend of architectural style from over the years has produced a unique and magnificent landmark. The view from the top of the towers is an awe-inspiring panoramic horizon and church services are also regularly held for anyone that wants to attend.
To the east of the city, lies Geneva lake and it makes a great family day out. Lunch is available from one of the many lakeside restaurants and small cruises are a relaxing way to view the landscape. Ideally allocate one or two nights to stay in the region. Yearly, there are many events and festivals held here and daily excursions such as cycling and mountain biking are sold.
There are over 30 museums dotted around the city although the most popular is the Red Cross museum. They make use of photography to show humanitarian disasters from all over the world throughout history. Although it is a serious topic, it is a very enlightening and educational visit.
Anyone who does not have to stick to a budget will enjoy shopping on the Rue de Rive. If money is restricted, it is still worth wandering down the street to gain a sneaky insight into life of the rich.
If you are there in June, time your visit around the Fête de la Musique, a three day event showcasing music, dance, food and drink. The whole city participates in this event so pre-book accommodation if you plan to attend.
Creative and artistic like-minded people will enjoy wandering around Carouge that is filled with artists seeking out inspirational sources. During the day, many cafes are open and at night time, jazz clubs open their doors to large crowds.

Geneva Car Hire with UDrive
I don't know how you do it guys but Udrive's rates are extremely low. I've been using your services for over a year now as I have to travel around Europe quite frequently due to my work. I'm very suttisfied and I would like to ask you to keep same rates! Sincerely your client for ever :).