Great Prices
We challenge you to find cheaper! Our rates include unlimited mileage, one-way fees and roadside assist*. Why pay more?
Wide Selection
We have around 20,000 depots around the world. We offer a great range of vehicles at competitive prices, from the most reputable suppliers
24/7 Hotline
We provide 24/7 service while you're on the road. You can also call 1800 761 192 , leave a message, and we'll return your call.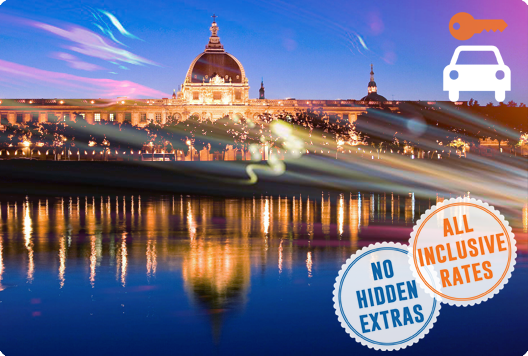 Lyon Information
Lyon, often Anglicized as Lyons, is a city in east-central France in the region Rhone-Alpes, situated between Paris and Marseille. Lyon is located at 470 km from Paris, 320 km from Marseille, 160 km from Geneva, 280 km from Turin, 450 km from Milan and 600 km from Barcelona. The residents of the city are called Lyonnais (singular and plural).
Lyon is a major centre of business with a reputation as the French capital of gastronomy and having a significant role in the history of cinema due to Auguste and Louis Lumiere. The local professional football team, Olympique Lyonnais, has increased the profile of Lyon internationally through participation in European football championships.
Lyon is the prefecture (capital) of the Rhone departement, and also the capital of the Rhone-Alpes region. The city is known for its historical and architectural landmarks and is a UNESCO World Heritage Site. Lyon was historically known as the silk capital of the world. The city is known as the culinary capital of France. It also hosts the international headquarters of Interpol, Euronews, International Agency for Research on Cancer. Lyon is a pilot city of the Council of Europe and the European Commission Intercultural cities programme.
The Saint-Exupery International Airport is located 20 km (12 mi) east of Lyon, and serves as a base for domestic and international flights. With its in-house train station (Gare de Lyon Saint-Exupery) the airport is also connected to the TGV network.
Lyon Driving Information
For the city center, look for signs reading "Presqu'ile". In the Presqu'ile and other central neighbourhoods, it is strongly advised not to park in 'prohibited parking' areas; you could be towed. Tickets for unpaid parking are also commonplace; a specific brigade of the city police is in charge of checking parking payments in the city centre. The penalty for unpaid parking is EUR11 (you might get several tickets in the same day in central neighbourhoods); the penalty for parking in a prohibited area is EUR35. If you park in a dangerous place (e.g., you block an emergency exit), the fine can be up to EUR135.
The minimum age to rent a car is 21 and an additional charge may be required for drivers under 25 years old. Major rental companies have offices at Part-Dieu and Perrache railway stations, and at the airport. Best to hire from Part-Dieu, as the subsequent navigation is much easier.
Compare Cheap Lyon Car Hire

Try our simple-to-use booking engine to compare car hire deals at Lyon. Type in your pickup and drop off locations & other information required and we'll immediately provide you with some quotations. Whether you're after an economy Lyon car hire, or a luxury Lyon rental vehicle, we have the perfect deal for you. Our low cost car rentals are provided by well-known suppliers such as Avis, Hertz and Europcar, but we can often provide better car hire rates!
Avis, Budget, Thrifty, Dollar, Hertz, Europcar, Sixt, Alamo, National & More!
There are a wide range of tours and attractions to visit, many of them being historical landmarks. They include
Roman ruins near Fourvière Basilica
The Cathedral of Saint John with elements that date back to the 13th century
The African museum of Lyon is one of the oldest in the city and dedicated to stories of missions in Africa
The Golden Head Park covers 117 hectares and is the largest urban park in France
The word famous chef Paul Bocuse bases himself in Lyon. At his restaurant, a client can pay anything from 148 Euro upwards for a three course meal.
A Lyon city card will save you money on the major attractions and sites to see
Guided walking tours of the districts of Lyon and cultural places are popular with visitors
Book a boat cruise up the river Rhone
The Passage Thiaffait is a variety of workshops dedicated to creative fashion
Photographers should head to the photo gallery of Galerie le Réverbère
Although not French, the Supermarché Asieius a great little Chinatown with a blend of Asian influences
Great service, have used you guys in Cambridge UK and Avignon, Lyon in France. Really good price direct from the Aussie car hire company.