Great Prices
We challenge you to find cheaper! Our rates include unlimited mileage, one-way fees and roadside assist*. Why pay more?
Wide Selection
We have around 20,000 depots around the world. We offer a great range of vehicles at competitive prices, from the most reputable suppliers
24/7 Hotline
We provide 24/7 service while you're on the road. You can also call 1800 761 192 , leave a message, and we'll return your call.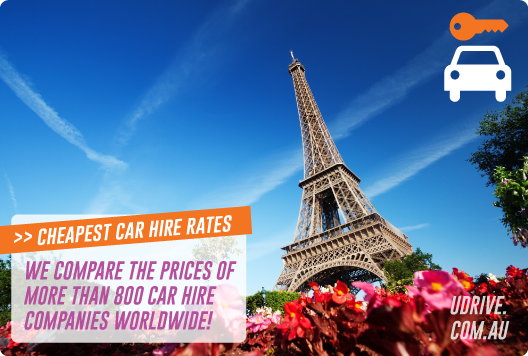 Paris Information
Paris is the capital and primate city of France and the country's most populous city. It is situated on the river Seine, in northern France, at the heart of the Ile-de-France region. The city of Paris, within its administrative limits largely unchanged since 1860, has an estimated population of 2,203,817 (January 2006).
An important settlement for more than two millennia, Paris is today one of the world's leading business and cultural centres, and its influence in politics, education, entertainment, media, fashion, science and the arts all contribute to its status as one of the world's major global cities.
Paris-Charles de Gaulle Airport (IATA: CDG, ICAO: LFPG), also known as Roissy Airport (or just Roissy in French), in the Paris area, is one of the world's principal aviation centres, as well as France's main airport. It is named after Charles de Gaulle (1890-1970), leader of the Free French Forces and founder of the French Fifth Republic. It is located within portions of several communes, 25 km (16 mi) to the north-east of Paris. The airport serves as the principal hub for Air France.
Paris - Orly Airport is an airport located partially in Orly and partially in Villeneuve-le-Roi, 7 NM (13 km; 8.1 mi) south of Paris, France. It has flights to cities in Europe, the Middle East, Africa, the Caribbean, and North America. Prior to the construction of Charles de Gaulle Airport, Orly was the main airport of Paris. Even with the shift of most international traffic to Charles de Gaulle Airport, Orly remains the busiest French airport for domestic traffic and the second busiest French airport overall in terms of passenger boardings.
Driving in Paris
Driving is a great option for going to some sights in the suburbs such as Vaux-le-Vicomte castle or the castle and city at Fontainebleau, or for starting to other places in France.
Traffic rules in Paris are basically the same as elsewhere in France, with the exception of having to yield to incoming traffic on roundabouts. However, driving in dense traffic in Paris and suburbs during commute times, can be especially strenuous. Be prepared for traffic jams, cars changing lanes at short notice, and so on. Another issue is pedestrians, who tend to fearlessly jaywalk more in Paris than in other French cities. Be prepared for pedestrians crossing the street on red, and expect similar adventurous behavior from cyclists. Remember that even if a pedestrian or cyclist crossed on red, if you hit him, you (in fact, your insurance) will have to bear civil responsibility for the damages, and possibly prosecution for failing to control your vehicle.
Paris has several beltway systems. There is a series of boulevards named after Napoleonic-era generals (Boulevard Massena, Boulevard Ney, and so forth), and collectively referred to as boulevard des marechaux. These are normal wide avenues, with traffic lights. Somewhat outside of this boulevard is the boulevard peripherique, a freeway-style beltway. The peripherique interieur is the inner lanes (going clockwise), the peripherique exterieur the outer lanes (going counter-clockwise). Note that despite the looks, the peripherique is not an autoroute: the speed limit is 80 and, very unusually, incoming traffic has the right of way, at least theoretically (presumably because, otherwise, nobody would be able to enter during rush hour).
Compare Cheap Paris Car Hire
Try our simple-to-use booking engine to compare car hire deals at Paris. Type in your pickup and drop off locations & other information required and we'll immediately provide you with some quotations. Whether you're after an economy Paris car hire, or a luxury Paris rental vehicle, we have the perfect deal for you. Our low cost car rentals are provided by well-known suppliers such as Avis, Hertz and Europcar, but we can often provide better car hire rates!
Avis, Budget, Thrifty, Dollar, Hertz, Europcar, Sixt, Alamo, National & More!
The city of Paris has many attractions within its boundaries however there are a lot more situated on the outskirts. The surrounding countryside is also worth exploring, just as much as Paris itself. By hiring a car, and heading out of the city, you will see exactly the diversity that the region has to offer. Here are our ideas to get you started
Day Trips from Paris by Car
The Palace of Versailles is roughly a half hour drive from the outskirts of Paris. Built by Louis the XIII, it covers 18,000 square meters and is a fantastic portray of French royalty. It also ironically marked their downfall in 1789, when the French revolution reached its gates. As the last home of the former Marie Antoinette, it contains many French historical treasures and is one of the largest museums in the world.
Additional info: Open Tuesdays to Sundays, except on public holidays.
The Chateau of Chantilly is another grand building displaying initiative architecture trends. Tickets are sold online which enable you to tour the whole estate covering 1900 acres. Activities to see and do include 12 rooms of ancient paintings known as the Conde museum, see a collection of priceless books and documents in the library, stroll around the gardens and park, and visit the Horse Museum. Functions and events are regularly held and this chateau is an ideal family activity
Additional info: Open every day except Tuesday.
Disneyland Paris is another activity that will certainly delight the kids. Located 32km from the centre of Paris, the resort is an amazing combination of rides, thrills, and attractions including the Space Mission and Big Thunder Mountain. If you are on your way to other areas in France, consider checking in overnight to enjoy the spectacular nighttime shows.
Provins is a medieval fair town that is also a UNESCO world heritage site and the former capital for the counts of Champagne. Great for adults and kids, there are regular medieval shows, festivals, and events. There are four large monuments to see including Caesar Tower and hiking trails within the park are for those who love to get outdoors. This is another establishment with overnight accommodation for families.
Get Around Paris
All the above attractions can be reached using local car hire. Use this search comparison tool to source prices from local suppliers
If you are on a road trip or considering a long stay within Paris and France, car leasing may be the ideal option for you. Supplied by Citroen, Peugeot and Renault, further details are available here.

Fantastic Experience in France
Hi Michael,
We only got back on Friday night , late, but very excited about our whole journey over the last three months in France and Spain.
As you know we leased our car, a Renault Dacia Duster, for a period of 69 days, picking it up at Paris Orly airport and delivering it at Nice.
It was a dream run all the way!.
We originally thought it couldn't be that easy, but it was. The car was there ready and waiting, we signed a few papers and within 20 minutes we were on our way. We covered over 7,000km and the car never missed a beat. It was clean, comfortable and definitely the right choice for our needs.
The only recommendation I can make is that the car instruction manual be made available in English, as there were a few things that we wanted to know about the car and it was in French, and our French wasn't that good!.
Michael, it was the way to go for us as we like to drive, and the whole experience was perfect.
Thank you for your patience in the first instance and the subsequent follow up arrangements.
Cheers for now, we will talk to you again about our next trip in due course.
Regards
Steve & Cathy
I would like to thank you for organising my lease on a car on my recent European trip, we were picked up at the airport and taken to the holding facility were our car was waiting.They gave us instructions on the GPS and had programmed return address and various other points of interest and fuel stations .We Drove through over 10 countries and did 14,000 km in 5 months without a problem. The car was a perfect size for us and the Diesel was cheap on fuel and great fuel economy. On return we dropped the car back ,paperwork was completed and they dropped us back at the airport all within 30 minutes. Overall the whole experience was great ,In the past I have had negative experiences with hire car companies. I will definitely be hiring my next car through you. Thanks for making our holiday one to remember. With thanks.
Peugeot Car Hire From Udrive
We were very happy with the arrangement. Car was ready on time and we did over 5500 Kms without a hitch. Puegot performed very well and very economical on fuel. We will use your setup again.