Great Prices
We challenge you to find cheaper! Our rates include unlimited mileage, one-way fees and roadside assist*. Why pay more?
Wide Selection
We have around 20,000 depots around the world. We offer a great range of vehicles at competitive prices, from the most reputable suppliers
24/7 Hotline
We provide 24/7 service while you're on the road. You can also call 1800 761 192 , leave a message, and we'll return your call.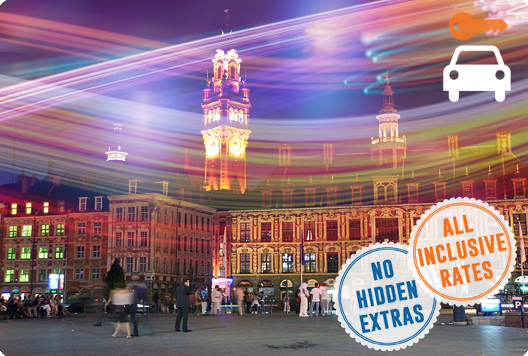 Lille Information
Lille is a city in northern France. It is the principal city of the Lille Metropole, the fourth-largest metropolitan area in the country behind those of Paris, Lyon and Marseille. Lille is situated on the Deule River, near France's border with Belgium. It is the capital of the Nord-Pas de Calais region and the prefecture of the Nord department.
The city of Lille, which annexed Lomme on 27 February 2000, had a population of 226,014 at the 2006 census. Meanwhile, the Lille Metropole, which also includes Roubaix, Tourcoing and numerous suburban communities, had a population of 1,091,438. The eurodistrict of Lille-Kortrijk, which also includes the areas of the Belgian cities of Kortrijk, Tournai, Mouscron and Ypres, had 1,905,000 residents.
Lille Lesquin International Airport is 15 minutes from the city centre by car (11 km).
Compare Cheap Lille Car Hire
Try our simple-to-use booking engine to compare car hire deals at Lille. Type in your pickup and drop off locations & other information required and we'll immediately provide you with some quotations. Whether you're after an economy Lille car hire, or a luxury Lille rental vehicle, we have the perfect deal for you. Our low cost car rentals are provided by well-known suppliers such as Avis, Hertz and Europcar, but we can often provide better car hire rates!
Avis, Budget, Thrifty, Dollar, Hertz, Europcar, Sixt, Alamo, National & More!
There is no doubt that France is a popular country. Foreigners intrigued by weird cuisine, a lispy, yet romantic language, and well-known touristic sites, attract millions of visitors every year. The culture, history and high standards of living, enable French citizens to treat their guests, with hospitality and courtesy. Any first time visit to France can be a little daunting, especially if you are not well travelled, so we have collected this list of fun facts to get you in the mood.
Fun Facts about French Food, Travel, Culture and History

Food and Drink

• French people place great importance on food. If you are travelling there for a business meeting, do not be surprised for lunch to last two or more hours. A traditional saying before starting a meal is to wish other guests, an enjoyable meal. Do this by saying Bon appétit
• Traditional cuisine that often seems strange to foreign visitors includes frogs legs, snails and horse meat. It is estimated that yearly, over 500,000,000 snails are consumed.
• The French are the largest cheese consumers in the world. Wine and cheese lovers will certainly enjoy tasting the variety on offer. Did you know there are more than 350 different types of cheeses? Popular ones to sample include Brie, Beaufort, and Camembert.
• The British dish of quiche, actually originated from France.
• Try le foie gras, which is the liver of a fat goose or duck. It is a regional delicacy.
• Paris lists more than 5000 restaurants serving food from all around the world.
• Truffles are a favourite food for the French and are often cited for their aphrodisiac qualities.
• American author Julia Child is widely credited for introducing French cuisine to America
• French liquors to try include Cointreau, Cognac, Armagnac, and Pastis.
Culture and Traditions
• French people call the English "les rosbifs", which refers to the traditional Sunday lunch of roast beef
• The Capital is Paris and the currency is euros
• The total population is 65 million people of which a majority are Christian
• Claude Monet was a famous painter who is now honoured for his work
• The three musketeers, is one of the most popular books ever sold
• The Tour De France started in 1903
• French people greet each other by kissing on the cheeks

History

• The Celtic Gauls ruled from approximately 700 to 500 BC
• The Romans ruled from 50 BC to 476AD
• The French revolution happened in 1789
• The same engineer, who designed the statue of liberty, built the Eiffel tower in Paris
• From 1804 to 1815, Napoleon Bonaparte ruled the country
• It was only in 1964, that women were legally allowed to open a bank account without their husband's permission
• The French have invented many ground-breaking techniques and objects including cinema, photography and the hot air balloon

Travel

• Recommended attractions to see in Paris are the Eiffel Tower, Notre Dame, Louvre, and the Arc de Triomphe.
• Everyone heads to the French Alps for good skiing opportunities
• France has 24 rivers that are more than 300 kilometres long
• Be careful if you head to Brittany or Normandy because they have the strongest tides in Europe
• Many French people speak English as a second language, particularly in the tourist destinations
• Estimations are that France has over 40,000 castles, palaces, and stately buildings
• The Louvre is the largest palace in the world, covering 210,000 square meters
• France has 28 sites on the UNESCO world Heritage list
• Tourism figures for 2012 suggest more than 81 million foreigners entered the country
Great Aussie Car Hire Firm
Great service, have used UDrive in Cambridge UK and Avignon France. Both times the company's price was cheaper than the major online firms and the car quality was excellent. Thanks UDrive. I'll be using the service again for sure.