Great Prices
We challenge you to find cheaper! Our rates include unlimited mileage, one-way fees and roadside assist*. Why pay more?
Wide Selection
We have around 20,000 depots around the world. We offer a great range of vehicles at competitive prices, from the most reputable suppliers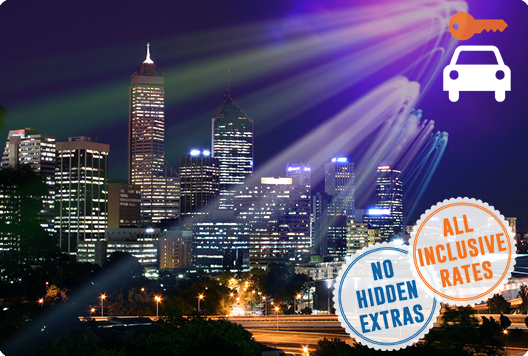 Perth is a pleasant seaside city in Western Australia. It's a long, long way from Melbourne, Sydney or the east coast, so make sure you've checked out the distances. Perth has one of the highest rates of boat ownership in the world and Perth people are known for their passion about sports. Don't miss out on the charms of the Swan River or the wildflower cycling routes through the Perth Hills.

Perth Car Hire Tip
It may actually be cheaper to rent your car at the airport! Compare our airport rates to the city centre rates as you may be better off picking up from the airport location.
Driving Around
Perth is a great jumping off point for trips north to Broome and the Kimberley, or south to Margaret River. Western Australia has some of the longest, straightest stretches of road in the world! As well as incredible distances, the roads are known for being well sealed and low in traffic. Be very careful before attempting to cross the desert or go off road - check the conditions in your car rental contract first, and make sure you have good communications equipment and plenty of spare fuel and water.
Margaret River is within comfortable driving distance from Perth. Great surfing and a world class wine region will make your self-drive holiday seem like the best idea ever. If you're thinking about cheap and easy car rentals, check out our on-line booking engine. If you're not sure about what kind of holiday you'd like, consider motor home rentals - Western Australia is well served with brilliant camping grounds.
Perth Airport
Perth airport is well served with six different car rental agencies: including Hertz, Budget, Thrifty, Red Spot, Avis and Europcar. Picking up your cheap, online rental car from Perth airport will always be easy and convenient! Please note that Perth airport is separated into parts. Terminal One serves international passengers, and Terminals Two and Three are for domestic flights. Specifically, the International Terminal is located on Horrie Miller Drive, which can be accessed off Tonkin Highway. The Domestic Terminals are located on Brearley Avenue, which can also be accessed by exiting off Tonkin Highway.
Emergencies
In an emergency, call 000 for police, fire and ambulance services. Foreign visitors to Australia need private health insurance, and there are public hospitals in all capital cities and most regional centres.
Perth AIrport
Perth Airport (IATA: PER, ICAO: YPPH) is an Australian domestic and international airport located south of Guildford, Western Australia, and is the major commercial airport servicing Western Australia's capital city, Perth.
It is the fourth busiest airport in Australia and plays a strategic role due to its location - servicing many Australian, Asian, Indian Ocean as well as Johannesburg, South Africa and Dubai, United Arab Emirates.
The airport is located near major arterial roads, Great Eastern Highway and Tonkin Highway. The domestic terminal is also accessible from the city by public transport buses, and transfers between terminals are available by use of an hourly inter-terminal transfer bus or taxi. Only passengers with proof on an ongoing ticket are allowed to use the inter-terminal transfer bus and bus fares may apply.
Transport
Road access to the domestic terminals from the CBD is via Great Eastern Highway and Brearley Ave. The International terminal access is via Tonkin Highway and Horrie Miller Drive. Both the domestic and international terminals are serviced by a number of private charter bus operators that can be normally accessed through most major CBD hotels. The domestic terminal can be accessed by multiple regular public bus services operated by Transperth. The airport is not currently serviced by Rail, however the current airport master plan calls for the construction of rail services prior to 2024.
Welcome To Perth : The Jewel of Western Australia
Native aborigines had always populated Perth, the largest city of Western Australia, but it received its first influx of foreigners in 1829, after being founded by Sir James Stirling of the Royal British Navy.
By the late 18th century, everyone was flocking there, seeking riches after word spread of gold being found. It was also a settlement area for convicts from the United Kingdom and served as a World War 2 base for aircraft and submarines.
After the fighting was over, many immigrants flooded the area making it one of the most populated regions in Australia. These days, it is a popular destination for both foreign and domestic visitors.
Quirky Fact
Perth became known as the "City of Lights" when residents lit their houses as an astronaut passed over; John Glen in 1962 on the Friendship 7 spaceship and again on the Space Shuttle in 1998.
When to Visit
The region receives most of its rainfall during the months of May to August. The months of October to March receives the most sunshine when temperatures can reach as high as 46 centigrade.
Top Ten Things to Do
- Perth Zoo houses numerous animals including giraffes. Covering 41 hectares, it is home to more than 164 species.
- The aquarium of Western Australia focuses on sea life inhabiting the coastline. It is open every day from 10am to 5pm and marine life includes sharks, stingrays, and turtles.
- The Water Labyrinth is a quirky and interactive water feature fountain that separates into nine different rooms for visitors to walk through.
- Perth Town Hall and its Victorian-Gothic architecture is open for historic tours on Thursdays.
- The Cultural Centre has an art gallery, museum, and state library.
- Kings Park is a popular green area for romantic strolls and excellent photo opportunities.
- Heirrson Island is home to a small colony of grey kangaroos. Best time to see them is at either sunset or sunrise.
- Barrack Square is a riverside location with regular ferry services, bars, restaurants and rather awesome views!
- The Perth Mint Exhibition is a look at gold mining history in the region and home to the world's largest coin.
- The i-city Volunteer Hosts operate a number of walking tours around the city including Icons of Influence and Convicts & Colonials
Compare Cheap Perth Car Hire
Try our simple-to-use booking engine to compare car hire deals in Perth. Type in your pickup and drop off locations & other information required and we'll immediately provide you with some quotations. Whether you're after an economy Perth car hire, or a luxury Perth rental vehicle, we have the perfect deal for you. Our low cost car rentals are provided by well-known suppliers such as Avis, Hertz and Europcar, but we can often provide better car hire rates!
Avis, Budget, Thrifty, Dollar, Hertz, Europcar, Sixt, Alamo, National & More!
As the pinnacle hub of Western Australia, Perth with its population of nearly 2 million people is naturally a hive of activities and exciting things to do. Whether traveling solo, as a group of friends or as a family, Perth delights everyone.
Having won numerous awards, in terms of tourism and living, people will also find it an affordable destination, giving good value for money. Known as the city of lights, Perth is a must-visit destination if you are in Western Australia but how can you truly get to know the city? By visiting, the many different places open every day to visitors.
Interesting Places to Visit in Perth
Kings Park
The 1000-acre park that is bigger than the famous central park in New York receives more than 5 million visitors a year giving testament to its range of activities on offer. As well as hosting Australia's largest wildflower show in September, activities on offer all year round include the botanical gardens, the Lottery West family area, and a network of walking trails. See more on their website.
Freemantle Prison
Called the establishment by the prisoner John Roe, Fremantle prison is an interesting insight into this now defunct government building that housed convicts from 1852 to 1991. Five guided tours take visitors to see the cells, tunnels, courtyards, firing ranges and chapels and the best and worst of living history. Classed as Australia's main maximum-security prison for more than 90 years, National Geographic famously labelled it the country's hardest prison.
Swan Valley
As the oldest wine growing region in Western Australia, Swan Valley is a world of surprises with its many activities to do including wine and food tasting, art and craft shops, and walking, driving and cycling trails. Visit for a day but if you find that is not enough, book into their overnight accommodation to take advantage of their river cruises, coach tours or horse-driven wagon rides
Perth Zoo
Running since 1898, Perth Zoo is a strong contender for Australian and international wildlife conservation. Don't conjure up images though of old-fashioned zoos because their mission statement says...
"Our purpose as an organisation is to actively contribute to conservation. This is done through our research activities, support for wildlife projects, and our animal breeding programs particularly breeding animals for release into the wild, wildlife rehabilitation, and partnerships with other groups and organisations. Perth Zoo also actively contributes to conservation through the work of its staff in field conservation, wildlife veterinary training, education programs, and interpretation"
With animals and plants from all over the globe including Asia, Africa, and South America, Perth Zoo is the ideal family day out.
The Aquarium of Western Australia
Formerly called Underwater World, this establishment prides themselves on 25 years of excellence in marine aquarium design. Aiming to keep people captive and not animals, visitors are introduced to numerous coral and underwater species from the 12,000 kilometres of Western Australia's coastline. They can also put on a wetsuit and walk in among a replica coral reef, therefore, enhancing the practical experience of underwater life.
Source Car Hire Suppliers in Perth
Find car hire suppliers in Perth by using our car hire search engine and make it easy to visit all these interesting places. For a long road trip, you may also want to consider motorhomes to cut down on the cost of accommodation.
It all went really smoothly. 1st time I have hired a car. My only very minor comments is that there were features that I could not work out how to operate since the car was so new - opening the back to get into the boot and the extremely odd new-look designed "hand" break. I had to ring and then go back to the booking desk to ask how to work them. And I had to do it twice. Booking, payment, pick up were all really great. Ladies at the desk very nice.