The best cities to visit in France besides Paris include Avignon, Lyon, Calais, and Nantes to name but a few. Indeed, their Mediterranean climate makes them popular city break destinations for many holidaymakers, both foreign and local.
All are busy so pre-book accommodation and pick up more information about things to see and attractions from local tourism offices. Everyone is assured of enjoying themselves regardless of whether their passion is history, shopping, nightlife, culture, or arts.
Averaging 300 days of sunshine a year, if you hamper after sun, April to November are the best months to visit but use these cities as bases to explore the surrounding countryside of which memorable, and beautiful views wait.
A great way to do this is to use our comprehensive search engine to source the best rates on a long term car leasing.
Best Cities to Visit in France Besides Paris
1: Historical Avignon
This south-eastern historical city on Rhone Riverbanks is most respected for preservation of the outskirt medieval ramparts. Called the city of popes because of years as the Catholic Church seat, it is a UNESCO World Heritage Site.
Its main landmark, the 14th century Avignon cathedral built during the 14th century displays marvellous Gothic influenced exterior architecture and art exhibitions inside. Meanwhile, the 14th century, UNESCO World Heritage Papal Palace opens from 9 a.m. to 7 p.m. for visitors to tour 20 rooms and art exhibitions.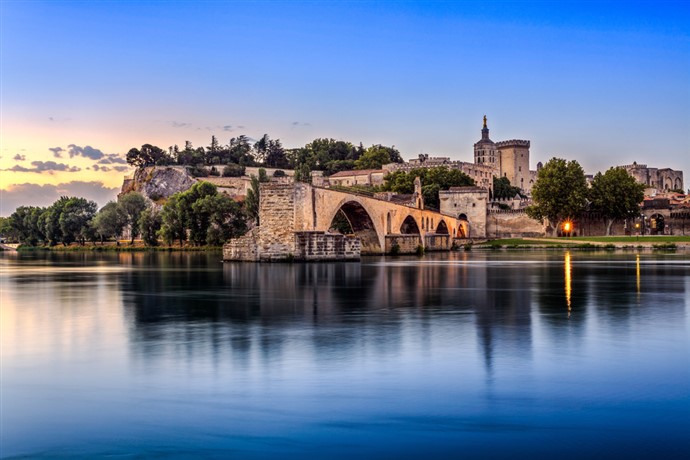 Ramparts and bridges exist all over the city and there is nothing better than spending a whole day exploring them at a slow pace, mixing up with the walk with tea or lunch in a French bistro. Explore the outer city walls and mini museums.
Reach the Pont du Gard, a fine example of Roman bridges built in an aqueduct style within an hour by using car hire. Meanwhile, the Calvert museum, a collection of paintings and over 140,000 books first opened in 1811 and contains many pieces of arts and sculptures from around the world including the previous Roman Empire.
Otherwise, head to Les Halles, a large local market for tasting traditional and regional cuisine from food stands. Also don't miss River Rhone daily tours that include a canoe, kayak, sunset cruises, and romantic lunches.
2: Interesting Information about Calais in France
In Northern France, Calis garners importance because of its ferry routes and operations. Called Pas-de-Calais, it holds the status of being the nearest place to England.
On a clear day, we can see the white cliffs of Dover in England, a reminder of when it was controlled by British rule from 1356 to 1558 until the French captured it. About 24 million people pass through Calais every year.
Calis is known as a major fishing point. Its current population is 4 million. Besides fishing and ferries, the long-established trade of lace has always earned Calis a reputable name. From here you can also explore the French Flanders, a historical Dutch-speaking region.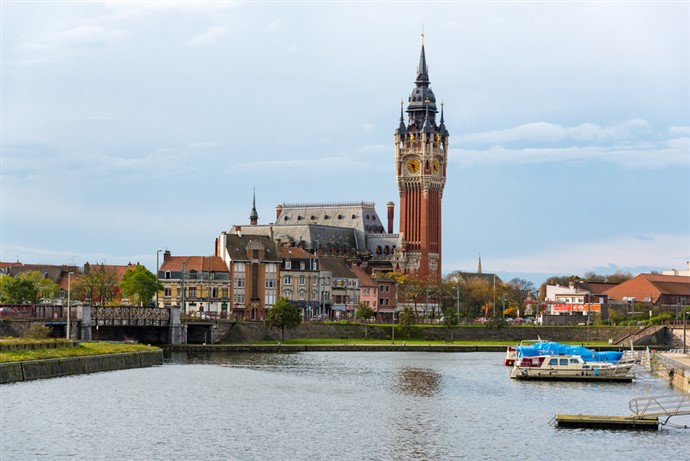 The most recognised landmarks of Calais are
Place d'Armes, a town square which holds a busy market on a Wednesday and Saturday.
Hotel de Ville, a town hall and UNESCO site
The 13th-century Église Notre-Dame Cathedral
The lace and fashion Dentelle museum
The Musee de Guerre displaying artefacts from World War Two.
The long, sandy Calis beach is perfect for swimming and sunbathing.
Travel Tip: Drive 50 minutes along the D940 coastal road to reach a lovely little town called Le Touquet Paris-Plage which is known as Paris by the sea. Most houses date back to the 1930s and it has become known as a popular seaside retreat. This quaint destination is perfect for an overnight family stay while on your way to other destinations in France. While here, explore the promenade, mini golf and water park.
3: Lyon: France's Second Largest City
In France's East Central region stands magnificent Lyon. With a population of over 484,000, and as the Rhones-Alps region's capital, this ideal travel destination presents a variety of interesting landmarks, beautiful places, but food and wine are two reasons to visit Lyon.
Often called France's gastronomy district, world top chefs often work in Lyon's restaurants serving up sumptuous dishes. The world-famous chef Paul Bocuse bases himself in Lyon. At his restaurant, a client can pay anything from 148 Euro upwards for a three-course meal.
Citizens are called Lyonnais, and the city is a UNESCO World Heritage Site known for its historical buildings. In history, it was an important area for silk production but these days, delicious cuisine has earned it a well-deserved reputation.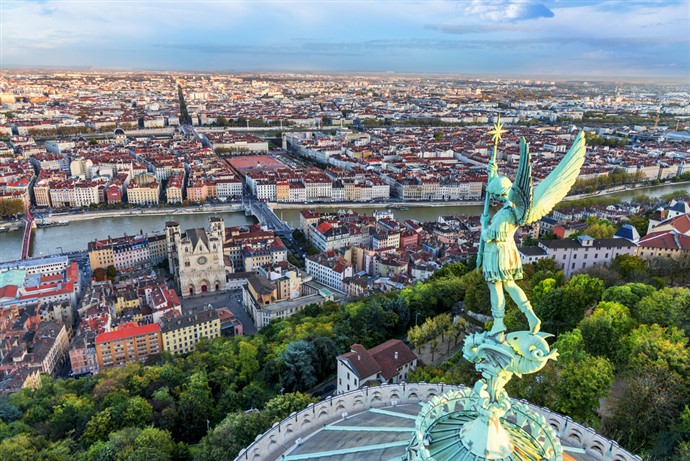 When you are not indulging your hunger buds, tour the 19th century, Basilica of Fourviere and take a bicycle ride along the Les Berges du Rhone.
As France's second richest city succeeded only by Paris, historical landmarks, and attractions to visit include Roman ruins near Fourvière Basilica, the 13th century Saint John Cathedral, the 14th-century Gothic church of Eglise Saint-Bonaventure and 18th century, neoclassical church of Église Notre Dame Saint-Vincent.
In addition, Lyon's African museum highlights stories of missions in Africa, while the Golden Head Park covering 117 hectares is France's largest urban park. The Passage Thiaffait, a variety of workshops showcases creative fashion but photographers enjoy Galerie le Réverbère photo gallery. Although not French, the Supermarché Asieius a great little Chinatown with a blend of Asian influences.
Quirky facts about Lyon include…
The cinematograph picture camera was invented here.
Every December, the city gets busy when the four days "Festival of lights" starts.
The local football team is Olympique Lyonnais.
German forces occupied it during World War Two, but there was a strong resistance presence.
The city is the headquarters of Interpol, the international police federation.
Visit two famous wine-growing areas; the Beaujolais and Cotes De Rhone.
A favourite local dish is Gras double which is tripe cooked with onions.
4: Marseille: A City of Tradition and Heritage
After Paris, Marseille is France's second-largest city with a population of over 800,000 people. With a history covering 30,000 years, Marseille nickname is "the oldest city in France". Beginning with its Greek and Roman origins, Marseille is over 26 centuries of building cities on top of one another.
Notable moments in its story are when citizens embraced the 19th century French revolution, and German occupation between 1942 and 1944. These days, daily life is calmer and visitors adore the diversity and dynamic vibes. Over 890,000 cruise liners dock in and the easy transport network encourages over 4 million visitors.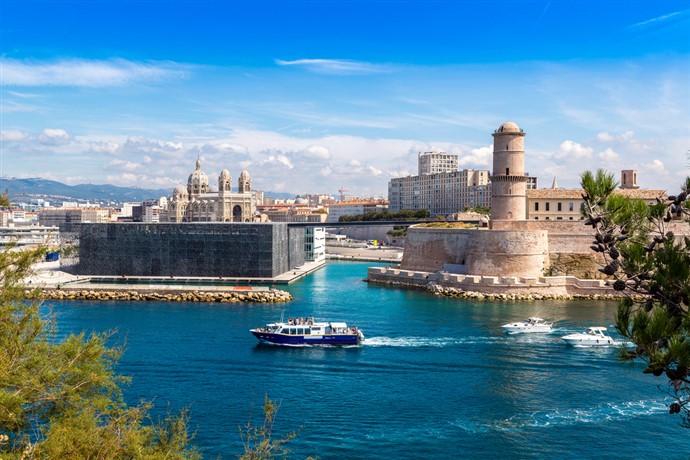 All are eager to explore the museums, landmarks, shopping, and entertainment centre of this wonderful multi-cultural city. The old port district is a good place to delve into the city's heart, and days gone by. One of its most famous landmarks is the Romanesque church of Basilica Notre Dame, but take a boat ride to Chateau D'lf, a former prison and castle made famous as the setting for the Count of Monte Cristo.
11 Tourist Attractions in Marseille, France
Waterside old port cafes specialise in fish dishes sourced from the nearby daily fish market. Also see the large 19th-century lighthouse.
Shopping addicts should head to Centre Bourse and St Ferreol districts.
The 5th-century Saint-Victor abbey has many ancient catacombs
The Natural History Museum opened in 1819 and to date houses over 1 million specimens
Grobet-Labadie Museum has an impressive collection of old musical instruments
Musée de la Mode will delight fashion fanatics with its 2000+ designs stretching back over the last thirty years.
Head to Notre-Dame-de-la-Garde Romano-Byzantine basilica, on the city's outskirts. With amazing panoramic views, this top tourist attraction is free to visit.
Due to become France's, eighth national park the Calanque is an area of amazing natural beauty and ideal for trekkers and hikers.
A ten-minute ferry ride away is Chateau d'if, one imprisonment setting in the "Count of Monte Cristo" book.
The Centre de la Vieille Charite, open from Tuesday to Sunday is a cultural and exhibition centre housing the archaeological museum and other attractions.
5: Things to do in Nantes, France
Although Nantes, on the Loire River banks does not feature on tourism destinations like its counterpart Paris, it has many attractions and 11 neighbourhoods make it a worthwhile destination to visit.
As France's sixth-largest city, this hub of history and art holds the title of a European green city because of efforts to introduce green space and reduce carbon emissions from public transport. Citizens called Nantais trace their Gallic roots back to a tribe called the Namnetes, but these days, it is "Venice of the West."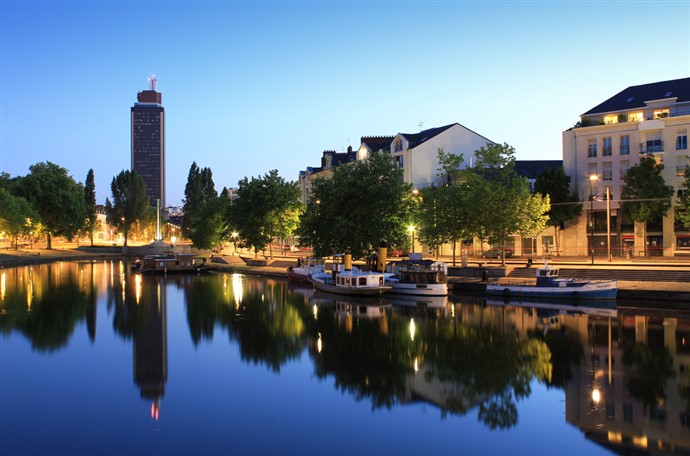 Visit historical churches like Saint Pierre and Paul cathedral, Basilica Saint Louis, and Basilica of Saint Nicholas.
The Chateau des Ducs de Bretagne, an old castle and home to the History Museum, called the Dukes of Brittany Castle in English.
Explore the 19th-century historical shopping mall known as Passage Pommeraye.
Nante Botanical Garden has been crafted over three centuries and includes a variety of plants from around the world
Parc de Proce, a beautiful green park is home to an 18th-century mansion
Try the local white wine speciality of Muscadet
The traditional food Galettes, a heavier version of crepe is served with a variety of savoury fillings
The 400-metre Abolition of Slavery Memorial pays homage to anyone who suffered at the hands of slavery. From African slave trades to present-day abduction, it is a sombre look into a dark concept.
The Folle Journee, a five-day musical festival celebrates classical works while kids enjoy Sea World's Merry Go Round
Save money by looking at the city's Nante pass offering 10% discount to avid explorers who aim to see as much as they can while in Nantes.
6: Toulouse : Best For Nightlife
A few travelling publications say Toulouse is the place to be, and it is enjoying a revival now, but its old quarter has always been an irresistible lure, anyway.
The top tourist attraction, Cite De L Espace Space Museum reflects its importance as France's aerospace hub. Being a university city, the nightlife is vibrant and varied.
Toulouse is a South-western city popular because of its traditional architectural styles. With over 1 million citizens living within its borders, it holds the prize of Europe's oldest university.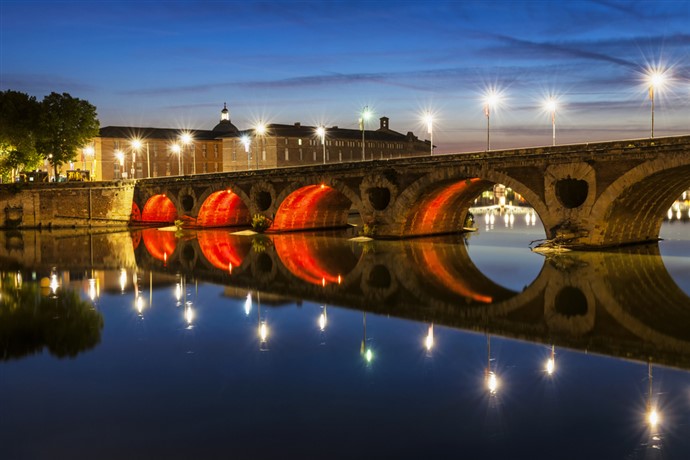 5 Places to Visit in Toulouse, France
Capitole De Toulouse, the heart of administrative Toulouse highlights many 16th and 17th century buildings. Explore cobbled side streets or sit in a cafe and people watch. This busy district includes the popular theatre / old opera house.
The old church Basilique Saint-Sernin built in the Romanesque style receives mixed reviews but has a crypt with an additional entrance fee.
Foundation Bemberg, an art museum displays 16th-century paintings from French, Italian, and German artists.
The Les Jacobins church, a historic, religious site is free to enter but walking around the grounds incurs a fee.
The 17th century Pont Neuf is the oldest bridge and admired for its architectural style and the lights lit up at night-time.
At certain agencies and the tourist information centre, purchase the Toulouse Tourism pass. This gets you free access to several attractions and transport networks. Ranging in price from 18 to 32 Euro, the pass allows 1, 2, or 3-day access.
7: About Beauvais, France: Tourist Information and Places to Visit
In the north of France, 90 kilometres from Paris, is Beauvais, a rich cathedral city belonging to the Picardy region. Habituated since Roman times, this small but popular holiday destination is the home city of a few notables French personalities, celebrities and footballers including Guillaume Brenner. The nickname of Beauvais is the "Cathedral giant" but the Mello battle, a rebellion by peasants took place here.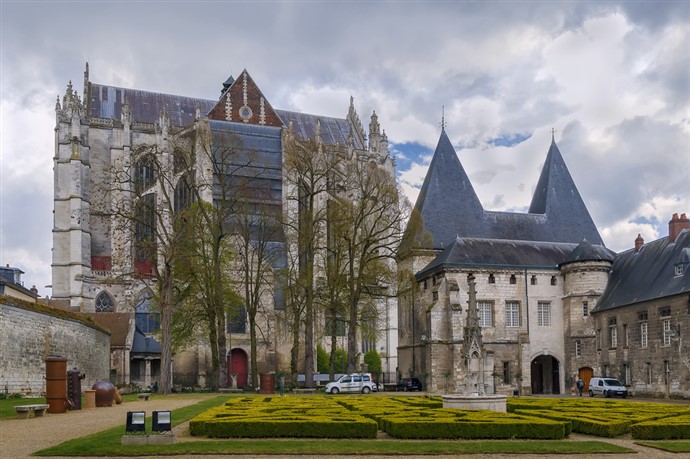 Main Sites to See in Beauvais: After desertion, locals used the 11th century Cathedral de Saint Pierre de Beauvais for several purposes before being restored back to its former glory as a place of worship.
The vault's height is a massive 48 metres and notable points of interest to keep an eye out for are a 14th-century working clock, another larger clock dating from 1865. The predominant Gothic style architecture wows everyone but watch up for a collection of stained glass windows dating from 1240 that were removed during World War 2 for preservation.
Life in Beauvais is slow-paced so spend a day wandering around the town's back streets to discover old houses from the 16th century, vintage and boutique shops and small cafes.
Hiring a car provides easy access to other regions close by which have notable attractions. Chantilly castle is one of France's most luxurious chateaux. Open every day, apart from Tuesday, they present equestrian shows.
Compiegne Palace oozes luxury and expansive décor, covering 1337 rooms. Louis XV built it and has three museums showcasing vehicles, the life of Napoleon III and the history of Empress Eugenie.
Travel Tips for Beauvais: Although they have basic rooms, facilities and furnishings, the Ibis Beauvais hotel is close to restaurants and known for its cleanliness. For a simple Bed and breakfast accommodation, look at the restored farmhouse of L'Echappee Belle, that is furnished with antiques and modern art, and has a small, but charming lake in the grounds.
8: About Aix-en-Provence in France: Travel Guide and City Attractions
In the south of France, just a short distance from Marseille is Aix-en-Provence, known as the city of fountains. Dating back to before Christ, the land it now covers has endured many turbulent times in history. Current ongoing excavations are still revealing artefacts and archaeological trends from Roman times. As a distinguished university town, term time is busy.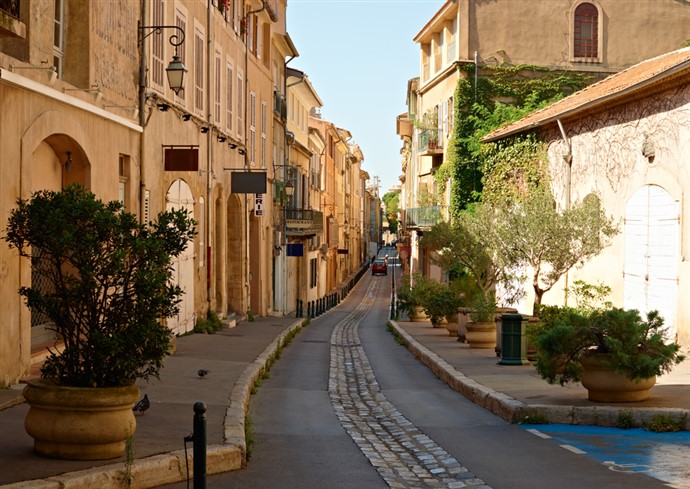 Travel Tips for Aix en Provence: Esteemed places to stay overnight include Le Manoir who furnished their rooms with antiques, Pigonnet, an 18th-century mansion and Negre Coste with free on site parking.
For eating out, although pricey, Le Clos de la Violette serves fine French cuisine as proven with its Michelin star. Make a reservation before visiting or for cheaper options, head to café et Brasserie le Grillon, offering a no-nonsense and pragmatic menu.
Get Active: Things to Do: Enjoy a coffee frappe in a street-side café before admiring 16th and 17th architecture in houses of Cours Mirabeau. A yearly opera festival is celebrated in June and July. Called the Festival International d'Art Lyrique, it first started in 1948 and events have now extended to include master classes and performances by up and coming talented musicians.
If opera is not your preference, a weeklong Classical and Jazz Concert called the Musique Dans la Rue occurs in various places throughout the city in June.The Holy Saviour Cathedral has various 5th to 17th-century architecture styles. Within the interior are ancient tapestries and panel paintings depicting the former King Rene.
Cézanne, a former artist who struggled throughout his life with depression, often noted in his journals there was no better place on earth than Aix-en-Provence. We can follow his time in the city via a marked route showed by studs in pavements.
Explore: Getting About Cities in France
Any independent traveller looking at the best cities to visit in France besides Paris would do well to look at car rental. What is better than starting your road trip in a brand-new car with insurance and roadside help included? As long as you are 18 years of age and have held a driving license for more than a year, anyone non-EU citizens can take advantage of car leasing deals and discounts as the ideal independent way to get around.
Our online search engine, sources all car leasing suppliers from the airport and surrounding areas, therefore helping you to find the best on car leasing packages.